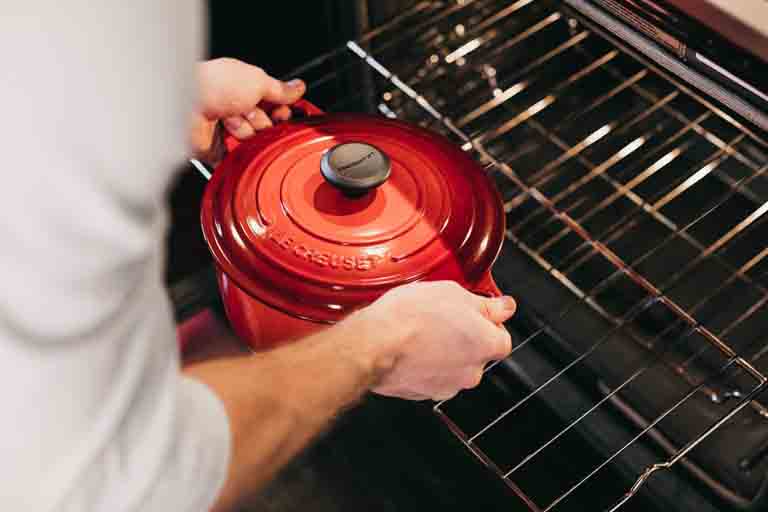 Many people think of a Dutch oven as a specialty product rather than a kitchen staple. That's not entirely true. While we do have microwaves, non-stick pans, and toasters, a Dutch oven can serve all of these purposes and more without sacrificing any flavor.
A Dutch oven is a thick pot made with aluminum or ceramic. It features a lid that closes tightly and keeps all of the flavor and the moisture inside of the pot. It enriches the flavor of your food by featuring an extremely heat-absorbing thick bottom.
Dutch ovens are best for cooking any types of stews, soups, rice, beans, or meat. These cookwares have really been brought into the 21st century with stylish models and many features that allow you to cook all types of dishes on all types of surfaces.
If you're ready to see if a Dutch oven is right for you, we've listed our top 11 picks so you can get the best Dutch oven for your needs.
What's The Difference Between A Dutch Oven And A Crockpot?
---
Many people wonder why they would need a Dutch oven if they already have a crockpot. Don't they serve the same purpose? Not exactly.
Crock Pots are great for stewing food over a long period of time to bring out all of the flavors. However, if you want to do any searing of your food before serving, you're going to need a different pot for that.
Dutch ovens are great all-in-one cookware that allows you to get the most out of your food in flavor, cook time, and moisture. For perfectly tenderized meats or soups with the most flavorful broths, you'll definitely want to use a Dutch oven.
There are a couple of different types of Dutch ovens on the market today. Before you go out and purchase one, make sure you're keeping a couple of things in mind to make sure the Dutch oven you purchase satisfies your needs.
Serving Needs
How many people will you be serving? If you're buying your Dutch oven for a large family or if you frequently host dinner events, you're going to want a Dutch oven that is at least 6-quarts in cooking capacity but perhaps more. To get an idea, 6-quart cooking capacity yield about eight servings.
What Will You Cook?
Before you purchase a Dutch oven, think about what you'll be serving in it. If you're cooking no-knead bread, you'll want something with extremely high heat capacity. Many high-quality ovens allow temperatures for up to 500 degrees F. If you are just cooking stews and soups, you can use something with a lower heating capacity.
Where Will You Use It?
Every Dutch oven is made differently. Some can handle all types of cooking surfaces while some can't handle gas or electric stoves. Before you buy, make sure the oven you're purchasing is able to handle the kind of stove you cook on.
Additionally, if you're going to be bringing your Dutch oven camping with you, you'll want something more durable. Many non-enameled Dutch ovens are perfect for cooking outside and also double as a grill or skillet.
Our Top Picks
---
Now that we know what to look for in a Dutch oven let's dive right into our top 12 picks so you can decide which model is the best Dutch oven for you.
Sale
Lodge 6 Quart Enameled Cast Iron Dutch Oven. Blue Enamel Dutch Oven (Blue)
6 Quart Dutch Oven, Blue. A flawless pairing of form and function that doesn't quit, the Lodge Dutch Oven is an enameled cast iron classic that's great for preparing and serving memorable meals.
WHAT IS PORCELAIN ENAMEL ON CAST IRON? It is actually glass that becomes bonded to the cast iron at high temperatures. A particulate of glass, called frit, is applied to the cast iron vessel and then baked at temperatures between 1200 and 1400° F. The glass frit melts and fuses to the cast iron, forming a bond. Porcelain enamel on cast iron is heat tolerant and impervious to water and other consumables.
MAKE EVERY MEAL A MEMORY. Lodge knows that cooking is about more than just the food; it's about the memories.Volume:0.53
FAMILY-OWNED. Lodge is more than just a business; it's a family. The Lodge family founded the company in 1896, and they still own it today. From environmental responsibility to community development, their heads and hearts are rooted in America.
This is a great Dutch oven that comes in at a reasonable price for high quality. This Lodge model gets great reviews online and is very widely liked by consumers.
The model has a 6-quart size that is perfect for all of your needs. This Dutch oven also features enameled cast iron material with a porcelain finish. The porcelain helps the oven to be as heat tolerant as possible without cracking while in the oven up to 500 degrees F. This model also comes in lots of different colors so you can pick the one that fits your kitchen.
This oven is compatible with all types of stove tops and is also dishwasher safe. A downside of this oven can be that it's too heavy. Some others have also reported that the plastic knob on the lib is susceptible to melting.
Overall, we found this to be a great oven that you can use for marinating, cooking, and serving without needing another container.
Sale
Calphalon Tri-Ply Stainless Steel Cookware, Dutch Oven, 5-quart
Aluminum core between 2 stainless steel layers provides even heating for excellent browning and control of the cooking process. Non-porous stainless steel cooking surface is safe for use with all utensils.
Elegant brushed stainless steel exterior can go from the oven or stove directly to the table. Reflective cook surface makes it easy to monitor foods as they cook and remains beautiful over time.
Clear tempered-glass lids let you see food while it's cooking and are oven safe, so you can finish covered dishes in the oven or keep them warm until ready to serve
Ideal for searing and braising meats, browning meats for savory stews, and preparing delicious soups. Domed lid with inside points allows continuous self-basting for flavorful meats.
Long, brushed stainless steel handles stay cool on the stovetop. All cookware is dishwasher-safe and carries Calphalon's full lifetime warranty.
This stainless steel Dutch oven features aluminum core layers and stainless steel surface layers. Because of its design, you get evenly cooked food every time. We also liked that this model features a glass lid so you can watch your food while it's cooking.
The handles on this Dutch oven stay cool when on a stovetop, so you don't have to worry when it comes time to grab your food. This Calphalon model has been known to lose some of its stainless steel colors over time. This Dutch oven is also quite heavy, so you'll need to be careful when using it.
This Dutch oven is a great choice for busy families who want a simple oven that will bring them good food for their money. You can use any type of utensil on it, so if your kid accidentally scrapes the bottom of the oven with a spoon, it's no big deal.
Marquette Castings 6 qt. Dutch Oven (Iron Red)
Beautifully enameled cast iron Dutch oven is versatile, easy to care for and clean! LIFETIME WARRANTY!
Oven safe to 500 degrees Fahrenheit
Light colored high gloss interior
Large loop handles that are easy to grip with oven mitts
Totally flat bottom for improved use on induction ranges and glass tops
This Dutch oven is ideal for families and people cooking for large parties, and for a couple of reasons. First off, this Dutch oven is big. At 6-quarts, you can fit enough for your whole dinner party. It can easily feed up to up to eight servings of your dish.
You can also use it on all different types of cooking surfaces including gas, ceramic and electric, so you don't have to worry if you're going to be reheating something at your friend's place without knowing what kind of stove they have.
This Dutch oven is also great for clean up. On top of all the other dishes you have to do, you won't have to worry about spending too much time cleaning your Dutch oven. The inside is completely non-stick that lets go of dried food easily.
On top of being an extremely functional Dutch oven, it's also stylish and will look great in your kitchen.
As stated in the name, this Dutch oven is backed by a renowned chef around the world, Mario Batali. It also has a range of features that could make it the perfect Dutch oven for your family's needs.
A 4-quart size makes it a great in-between for those who want something bigger than an individual oven, but don't need to be cooking eight servings for a dinner party every night either. The lid on this oven is self-basting, so you'll be sure to get all the flavor and moisture retained in your dish.
This model is made to last. You can cook it at up to 500 degrees F without having to worry about cracking. If anything does happen, the model is backed by a lifetime warranty - no more worrying about chipping, cracking, or color fading.
This Dutch oven is most compatible with ceramic and induction stovetops, so if you usually cook on gas or electric, this oven may not be the best for you.
Sale
Zelancio Cookware 6-Quart Enameled Cast Iron Dutch Oven Cooking Dish with Self-Basting Lid, Red
Dutch oven/ French oven: 6 quart cooking capacity. Enameled solid cast iron construction with vibrant contemporary colors and design. Makes a perfect Dutch oven roaster
VERSATILE: Our Enameled Dutch oven can go straight from stove to oven to table. Perfect to braise, salute, simmer, bake, marinate, or slow cook just like you would see the pros do on the food network
Superior design: tightly fitting lid seals in moisture and heat. Large loop handles for easy handling. Superior heat distribution and retention to evenly tenderize meats, poultry and vegetables
Features: our Dutch ovens (French ovens) feature a stainless steel knob, self-basting condensation bumps on the lid, and extremely durable 3 layer enamel cast iron construction
Convenient: broiler and oven safe up to 500 degrees F. Cream colored enamel interior provides fast and easy clean up after cooking. Hand washing is recommended for this round French oven
For our fifth spot, we've chosen the Zelancio Enamel Cast Iron Dutch Oven. This oven has a cooking capacity of 6-quarts, so it's great for family events and parties. This oven is the ultimate pick for food that is cooked to perfection.
The self-basting lid is going to keep all the moisture and flavor locked into your foods. This oven is perfect for making perfected marinated and tender meats as well as steaming vegetables.
This oven is super user-friendly. It features a heat resistant top knob that allows you to easily remove the lid at high temperatures. It also is made with nonstick ceramic for easy cleanup. However, this Dutch oven isn't very dishwasher friendly, so it's best to wash it by hand.
This Dutch oven is offered at a very reasonable price point for the features and convenience it offers. Be sure to look into this model more before checking it off your list.
Sale
This Dutch oven is the perfect high-quality and high-end model, but it does come with a bit of a price tag. This oven is large enough to make most any dish you like and can be heated up to 500 degrees F without any risk of cracking.
This oven is versatile. If you need to use at over 500 degrees F, you can remove the knob which allows you to use at even higher temperatures. The knob can easily be put back on and taken off again whenever you please.
The enamel coating on this oven means you can cook whatever you'd like in it. But is it worth the high price tag? That's up to you. If you're looking for something that is customizable for your style, this oven comes in a wide variety of colors and features circle and oval shapes.
In contrast to our number six pick, our number seven spot goes to the best Dutch oven for people on a budget. This model offers premium features without coming at a premium price tag.
This oven can't be heated to the same high temperatures many other ovens can, instead this one can only reach up to 450 degrees F. This is still plenty high and will fulfill your cooking needs for most dishes, however, can't cook a few of the popular Dutch oven bread recipes with this model.
The oven has a strong enamel coating which allows you to cook roasts and meats without any issues. To get more value for your money, this oven also is backed with a lifetime warranty that will protect you from any cracks or dings on your Dutch oven.
Lodge L8DD3 Cast Iron Dutch Oven, 5 qt
5 Quart Seasoned Cast Iron Double Dutch Oven. The Lodge Cast Iron Double Dutch Oven works overtime. Featuring a lid that easily converts to a skillet. The domed cover is great for roasts and non-knead bread recipes, too. Conducts heat evenly and efficiently - just like cast iron should. Measures 12.62" x 10.38" x 6.3" with lid.
SEASONED COOKWARE. A good seasoning makes all the difference. Lodge seasons its cookware with 100% vegetable oil; no synthetic coatings or chemicals. The more you use your iron, the better the seasoning will get.
MADE IN THE USA. Lodge has been making cast iron cookware in South Pittsburg, Tennessee (pop. 3,300) since 1896. With over 120 years of experience, their cast iron is known for its high quality design, lifetime durability, and cooking versatility
MAKE EVERY MEAL A MEMORY. Lodge knows that cooking is about more than just the food; it's about the memories.
FAMILY-OWNED. Lodge is more than just a business; it's a family. The Lodge family founded the company in 1896, and they still own it today. From environmental responsibility to community development, their heads and hearts are rooted in America.
If you're not in the market for an enameled cast iron oven, this non-enameled version is a great choice. It's durable enough to use for camping and your other outdoor activities. This Dutch oven is perfect for your next outdoor adventure by featuring a lid that also serves as a skillet allowing you to pack fewer items with you.
This Dutch oven is also nonstick so it's very easy to clean up. If you're outside, you probably don't have a nice sink and sponges to scrub out all your pots and pans, so this model ensures easy cleanup.
The Lodge L8DD3 is great for soups, cornbread, and all your campfire favorites. The downside of this oven is that is can burn off seasoning at high temperatures. This isn't too big of a deal and won't harm the cookware at all, you'll just need to reapply the seasoning.
With this Dutch oven safe for any type of stovetop, campfire, or grill, it's the perfect multi-use Dutch oven.
Sale
Camp Chef 13" Square Dutch Oven
True Seasoned Finish cast iron Dutch oven and Built-in thermometer notch
Lid reverses and has raised ridges for use as a grill - Legless design for use in home ovens
Total Height: 5 1/4" height - Inside Depth without Lid: 3 1/4" inside depth without lid
Lid Depth: 1 1/2" lid depth
Total Volume: 8 Qt.
Circle and oval Dutch ovens frequent the market much more than other models. But what about square ovens? There are occasions that a square-shaped Dutch oven will be a better fit for your needs.
This square oven is great for baking. You can make biscuits, brownies, cakes, rolls, and all sorts of things on this square surface. However, this oven is also great for roasts and casseroles. The 8-quart cooking capacity ensures you'll have room for all of your dinner guests.
Although this Dutch oven isn't the most visually appealing, you can start using it as soon as you purchase it because the oven comes already seasoned. The surface is also nonstick so you'll have easy cleanup.
This versatile model also serves as a grill. All you have to do is reverse the lid. Overall, this is a great pick for people who want a functional, gets-the-job-done Dutch oven.
Sometimes a bigger Dutch oven doesn't fit your need as well. If you want a Dutch oven perfect for cooking small dishes, this one is a great pick. This Dutch oven is much more lightweight than other models and better for bringing around your kitchen.
Unfortunately, this model is that it doesn't have an extremely high cook temperature. The model cannot exceed 400 degrees F. This is fine if you're just cooking things like stews and soups.
This Dutch oven is also very visually appealing. The glossy enamel will keep the oven looking nice for many years. On top of that, it's also very versatile and you can use it with any kind of stove top.
Cuisinart CI670-30CR Chef's Classic Enameled Cast Iron 7-Quart Round Covered Casserole, Cardinal Red
Cast Iron Construction Provides superior heat retention and even heat distribution
Porcelain Enamel Exterior Strong, durable finish in rich colors complement any kitchen decor; perfect for cooking, serving and entertaining
Porcelain Enamel Interior Ideal for cooking; surfaces do not impart flavors or absorb odors
Extreme Versatility Induction stovetop compatible; stovetop, oven and broiler safe
Dishwasher Safe Convenient maintenance and easy cleanup
This Cuisinart Dutch oven is one of the best Dutch ovens you can buy today. Its large capacity makes it great for bigger families and entertaining. You can perfectly fit all types of dishes in this oven.
The large size allows for more evaporation, a more condensed broth, and more flavor. Unfortunately, all that extra space also means extra weight. This Dutch oven is quite heavy and not ideal for carrying around your kitchen. On top of this, the oven comes with smaller handles so it's a bit hard to grip tightly.
Overall, this Dutch oven is a great pick despite some design flaws. The oven cooks food perfectly and will be sure to please your family or guests.
Sale
This favorite French Dutch oven is turning into very popular cookware all around the world. The cooking capacity is big enough to satisfy a big family, potlucks, or get-togethers.
This oven is in an oval shape, different from many Dutch ovens that are only offered as a circle. This will save room in your oven and when storing it away in the kitchen. Aside from an ideal shape, this Dutch oven is really a winner because of how lightweight it is. You won't have to worry about hurting your back or losing control when bringing it from the stove to the table.
This Dutch oven is also safe for temperatures up to 500 degrees F. The cast iron is also completely coated so you won't need to fret if you're use ingredients with high acidity. The only reason why this model isn't higher up on the list is that it does come with a steep price tag. With that being said, you do get what you pay for in quality and durability.