*This post may contain affiliate links. As an Amazon Associate we earn from qualifying purchases.
A convection microwave combines the traditional heating capacity of a microwave with the features of a convection oven. Adding this versatile appliance to your kitchen is a great way to save space and cook a wider range of dishes. If you are not sure which appliance is the best convection microwave for your needs, take a look at our product recommendations.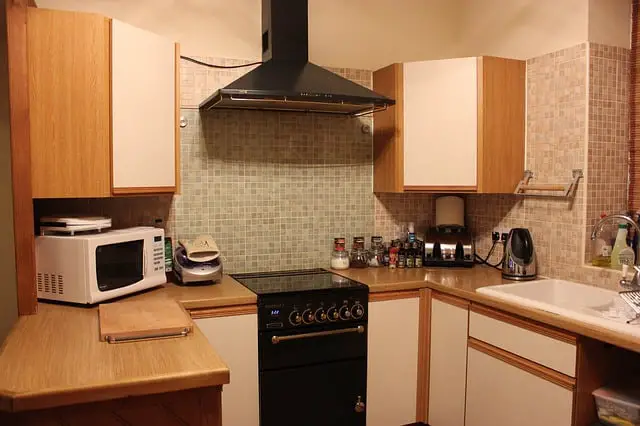 image via: pixabay
How We Chose Our Ratings
We compared different convection microwaves and used these criteria to assign ratings:
The convection oven mode. We looked for appliances with a convection mode that is easy to activate and gave higher ratings to the microwaves that let you turn off the microwave mode.
Size and capacity. We selected appliances with different sizes and capacities so you can find one adapted to your needs.
Temperature controls. The appliances recommended below feature precise temperature controls. We gave higher ratings to the microwaves with temperature sensors.
Advanced features. Some microwaves received higher ratings thanks to their advanced features such as presets, grilling mode, defrost buttons, and other useful features.
Reviews. We looked for appliances made by manufacturers who have a good reputation and made sure the microwaves have received positive reviews from shoppers.
Top Seven Best Convection Microwaves
Here are a few products to consider if you are looking for the best convection microwave.
[amazon box="B01LMCUI38,B07BB59NSL,B07713ZBJ6,B071ZSCY1P,B00NQFSSWS,B071RTWQ4M,B073G8Q6CG" template="table"]
GE PEB9159SJSS Profile 1.5 Cu. Ft. Stainless Steel Countertop Microwave – Convection
[amazon box="B01LMCUI38″]
This performing convection microwave has a power rating of 1,000 watts. The power rating is enough to cook anything within a few minutes and is suitable for warming up large dishes quickly.
It comes with a few basic presets and a mute function. There are built-in sensors to detect the heat and humidity level inside of the microwave and automatically adjust cooking time and temperature.
We like this microwave because it's a versatile appliance. You can switch between a microwave mode, convection feature, or use the broil and roast modes. You can also adjust the power level when using the microwave function.
The auto defrost feature is convenient, and so is the timer. The microwave comes with two racks you can use to bake or grill food. There is a lock feature that will come in handy if you have young children.
There is a kit available for this microwave if you want to mount it inside of a kitchen cabinet and save counter space. Note that you have to purchase the kit separately.
The microwave is compact with dimensions of 20x20x12." This appliance is a good choice if you have a small kitchen and need a versatile microwave.
However, the door opens with a button instead of a handle and there are no controls for the temperature of the convection mode.
Whirlpool 1.9 Cu. Ft. Smart Over The Range Convection Microwave
[amazon box="B07BB59NSL"]
This Whirlpool microwave is a modern appliance with plenty of built-in features that set it apart from other products.
It's designed to be mounted on top of a cooking range and replace the hood. There is a fan for four speeds to get rid of smoke and built-in lighting for your stove.
The microwave uses different sensors to adjust cooking mode, time, and temperature. You can program a cooking cycle that uses different modes and other features.
The most interesting thing about this microwave is the WiFi connectivity feature. You can download an app on your phone to program a cooking cycle or adjust the settings of the microwave. If you have a smart home assistant, you can use voice command to control your microwave.
The app lets you scan the barcodes of frozen meals and automatically sends cooking instructions to the microwave. The app is a convenient feature that will help you get optimal results every time you prepare a frozen meal.
The inside of the microwave features a nonstick surface to make cleaning easier. The backlist controls are very discreet and easy to navigate. They are not visible when you don't use them.
We like this microwave because of its 1.9 cubic feet capacity and smart features, but the installation process can be a drawback since you have to mount it over your stovetop.
Emerson 1.5 C. Ft. 1000 W Convection Microwave Oven
[amazon box="B07713ZBJ6″]
This Emerson convection microwave is one of the most versatile appliances we found. It features a grill mode with a removable grill rack. Once you switch to convection mode, you can choose between a baking and a roasting feature.
There are nine preset options, including a cake option that makes this microwave interesting if you often bake.
You can defrost frozen items by time or weight and will find that navigating the large controls is very easy. There is a child safety lock you can use to prevent your children from starting the microwave.
There are a few features missing from this microwave, such as temperature and humidity sensors, a timer, and a programmable feature. This appliance is still a great option if you want a microwave you can use to bake and grill your food and don't need any other advanced features.
Toshiba 1.5 Cu. Ft. Stainless Steel Convection Microwave Oven
[amazon box="B071ZSCY1P"]
This Toshiba microwave is the ideal convection microwave if you don't have much counter space. The 1.5 cubic feet capacity is ideal for a person or a couple.
The microwave has a maximum power rating of 1,000 watts with 11 different levels. You can adjust the temperature of the convection mode up to 425°F.
This appliance comes with classic features such as a defrost button, a timer, and a few basic presets. There are some advanced features that make this microwave worth considering, including sensor cooking and reheating modes.
You will also find three programmable buttons on the appliance. You can program these buttons to create three presets with the cooking modes, times, and temperatures that you use regularly.
Shoppers say these buttons are easy to program and add value to the microwave.
Samsung MG14H3020CM 1.4 Cu. Ft. Countertop Grill Microwave Oven
[amazon box="B00NQFSSWS"]
This microwave features a mirror finish, which can be a drawback since you won't be able to see your food while it's reheating or cooking. On the plus side, a mirror finish can help the microwave blend in if you have a kitchen with a modern design.
The enamel interior is a huge plus since it's easy to wipe and helps with even cooking. The compact design and interior capacity of 1.4 cubic foot will help you save space.
The microwave isn't designed to bake or cook meals from scratch. There is only one source of heat at the top of the appliance and it can be used to grill and brown your food.
The convection mode will improve the flavor of your food and help you reheat food faster when combined with the microwave mode, but there are other microwaves to consider if you would like to get an appliance that can replace a convection oven.
The power rating of this microwave is 950 watts, which means there are more powerful options to consider even though this appliance is suitable for most meals that you would prepare in a microwave.
The auto defrost, cook, and reheat buttons are combined with a few other presets. The controls are very easy to use, and this could be the right microwave for you if you mostly want to use the convection mode to improve the flavor of your food.
Sharp Carousel 1.5 Cu. Ft. Mid-Size Microwave
[amazon box="B071RTWQ4M"]
This microwave stands out thanks to its sensor menu. You can use the controls to access a menu with eight different presets. You can also select different modes, such as an auto broil, roast, and bake mode. The sensors of the microwave will automatically adjust the time and temperature when you select these cooking modes.
You can also manually set the cooking time and temperature for the broil, roast, and bake modes. You can use the microwave and convection modes at the same time and will find two different power settings available when you use the two modes together.
The slow cook mode is another interesting feature that you won't find on many other appliances. We also like the preheat mode that will come in handy when you use the convection features.
The ceramic turntable is a great alternative to a glass element. It's much easier to clean and help disperse heat more evenly inside of the microwave.
The only downside of this microwave is the 900 watts power rating. There are more powerful options to consider, but the wide range of convection cooking modes available still make this appliance a great option.
Farberware Gourmet FMO10AHSBKA 1.0 Cubic Foot 1000 Watt Microwave Oven
[amazon box="B073G8Q6CG"]
This microwave is a must-have appliance for apartment kitchens because of its compact design and versatile features. The interior capacity is only one cubic foot, which is ideal for a small kitchen but probably won't work for a large family.
The controls are interesting because they are much easier to use than a traditional microwave with buttons. You will find two knobs that you can use to select the cooking mode you want and indicate the cooking time or weight.
There are ten presets to choose from, and the cooking modes include microwave, grill, convection oven, and air fry.
The air fry feature is interesting because you can fry a wide range of foods with a very small quantity of oil. You can combine the grill mode with the microwave function to make your food crispy when you reheat it and improve the taste.
There are ten power levels to choose from, and you can easily program different cooking stages if you want to reduce the power level or switch from one cooking mode to another.
Your Guide To Choosing A Convection Microwave
image source: pixabay
The best convection microwave depends on how you will use this appliance. Here are a few things to consider.
Why Choose A Convection Microwave
Microwave ovens use waves that concentrate energy inside of food molecules. The food molecules heat up when exposed to these waves.
Because microwaves heat food up from the inside, you won't get the same crispy or brown exterior you can obtain when cooking food in a traditional oven. However, your microwave probably heats food faster.
Microwaves are ideal for warming up leftovers or thawing frozen meals but the taste of the food isn't always great. The downside of microwaves is that food warms up too quickly to be cooked thoroughly, which is why you can't cook a meal from scratch with a microwave.
A convection microwave remediates to this issue by introducing a secondary source of heat. These appliances use hot air that is circulated inside the microwave to cook your food.
You can use a convection microwave to warm up food just like you would with a traditional microwave and activate the convection mode to cook your food from the outside and get a crispy exterior and better taste. You can also use the convection mode by itself to cook food just like in a regular convection oven.
Keep in mind that a convection microwave might not be as performing as a regular convection oven. These appliances tend to be smaller and might not reach the same temperature.
Convection microwaves are great for baking, for preparing quick bites, and for getting even results when warming up frozen meals or leftovers. The flavor of your food will be more pleasant compared to what you can prepare in a microwave, and you will find that your convection microwave is a very versatile addition to your kitchen.
What To Look For When Choosing A Convection Microwave
The most important feature to look for is probably the ability to turn off the microwave mode completely when using the convection feature. Being able to use both modes at the same time is convenient, but you need to turn off the microwave mode to bake.
Make sure you can easily adjust the temperature of the microwave oven. Convection ovens use a fan to circulate heat but some dishes require you to turn this fan off and to have the heat come from the top or bottom of the oven.
A convection microwave that gives you the possibility to turn the fan off and use only the top or bottom heat source can be interesting. Some appliances have different modes for defrosting, grilling, roasting, and more. These are not features you might need depending on what you usually cook.
Check the dimensions of your new appliance carefully. It should fit on your countertop without taking up too much space.
Pay attention to the presets of the microwave you are interested in. Some appliances include presets to warm up beverages and prepare popular foods.
Choose a microwave that is easy to clean. A stainless steel exterior will be easy to wipe, but make sure there is a ceramic interior or a similar non-stick material that is easy to clean.
Sensors are a relatively new feature. Some convection microwaves feature heat and humidity sensors that can automatically adjust the oven temperature, cooking mode, and cooking temperature
Getting The Most Out Of Your Convection Microwave
Compared to a traditional oven, a convection oven can cook food faster since it circulates air. This means you might have to adjust cooking time for some recipes.
The same thing is true of a microwave oven. If you combine the microwave mode with the convection mode, your food will cook faster since it will cook from the inside and the outside.
Look for a convection microwave that comes with a guide or a recipe book so you can figure out how to get the most out of your new appliance. Some dishes such as frozen dinners will taste better when you combine both modes while other dishes should only cook with the convection mode.
We recommend not using the microwave mode when cooking meat. Meat needs to cook slowly so that the inside can reach a specific temperature. If you can't turn off the microwave mode of your new appliance, don't use it to cook meat.
A programmable microwave can be a good investment. You can find convection microwaves that give you the possibility to program a cooking cycle that alternates between different temperatures and cooking modes.
Sensors, presets, and other similar features are worth looking into since they will help you get used to your new microwave and get optimal results. Don't forget to look for a microwave with a see-through door so you can easily check on your food while it's cooking!
These tips will help you choose a convection microwave, but keep in mind that the best appliance is the one with the features that make cooking your favorite foods easier. Measure your counter space to get a better idea of the size and capacity you should look for before comparing features.