*This post may contain affiliate links. As an Amazon Associate we earn from qualifying purchases.
Convection ovens circulate heat with the aid of a fan, allowing food to cook evenly. Here are some of the best convection ovens on the market right now.
Comparison Table
[amazon box="B00OXSR486,B01M0AWSJX,B00EAI325I,B001L5TVGW,B00XBOXVIA,B0043E6PLC," template="table"]
What's the Best Convection Oven?
An oven is a versatile appliance that you can use to warm up, roast, broil, or bake. With this kitchen device, you can make different dishes than if you only had a microwave or stovetop. However, getting any oven doesn't cut it.  
You need a convection oven whether you're looking to upgrade your kitchen skills or experiment with a new dish. The best convection oven cooks faster and evenly thanks to their extra additions.
Here's everything you need to know about convection ovens and how to choose one for those yummy meats and baked goods.
What is a Convection Oven and How Does it Work?
A convection oven or a fan oven is a kind of oven that has fans that circulate hot air which allows the food to cook faster. The air doesn't stay at the top, something that allows everything to cook evenly. A traditional oven uses radiated heat from the walls, while the convection oven uses the fans to spread heat.
Some models like the real or European convection oven have an extra heating element that heats the air as it goes out of the fan. The U.S. Department of Energy estimates that convection ovens use 20 percent less energy a year when compared to radiant ovens, something that makes them efficient. 
Convection Oven Cooking Tips
Here are some essential tips on how to cook with a convection oven.
Don't Overcrowd the Oven
Convection ovens work through air circulation. Crowding the oven could block the flow of air. While you may still do this, you won't enjoy the advantage of the convection setting. You can bake on several racks, but avoid filling them wall to wall.
Use Roasting Pans and Low-Sided Baking Sheets
These ovens cook food by spreading hot air evenly. You need to use low-sided baking sheets and a roasting pan to keep your foods crispy. When handling meat, cook it at the center oven rack with a sheet on the bottom rack.
The baking sheet catches all the juices, and the pan allows your meat to brown evenly. Rimless baking sheets work best when baking cookies. Ensure that the food doesn't touch the sides. The oven and the pan should have two inches of space on both sides.
Use Low-Temperature Settings
You don't need high temperatures on a convection oven as it evenly spreads out heat. Set the oven to 25 degrees Fahrenheit lower than you would for a conventional oven for your recipe. Alternatively, you can reduce the time by 30% depending on what you're cooking. Make sure to reduce the cooking time for vegetables, casseroles, and baked goods by 15%.
Add Water When Baking
Put a pan with an inch of simmering water on the oven when baking bread. The steam helps you achieve a crackly and crispy crust when baking breads at high heat.
Familiarize Yourself with Fan Switches
You can find convection ovens that offer different levels of air and show you how to switch from high to low air. Also, the manual will tell you which foods cook best under these conditions. It's essential to become familiar with fan switches to understand how the oven works.
Understand When to Use a Convection Oven
You can use a convection oven when you want to reduce the cooking time on meat or when you desire a browned and crisp crust. A convection oven would also work well when handling dehydrated foods, roasting meats or vegetables or braising.
Check the food Towards the End
Convection foods cook foods faster, and it's best to check your food earlier to ensure that it's cooking well. As you get used to it, you'll better understand how it works with the meals you prepare.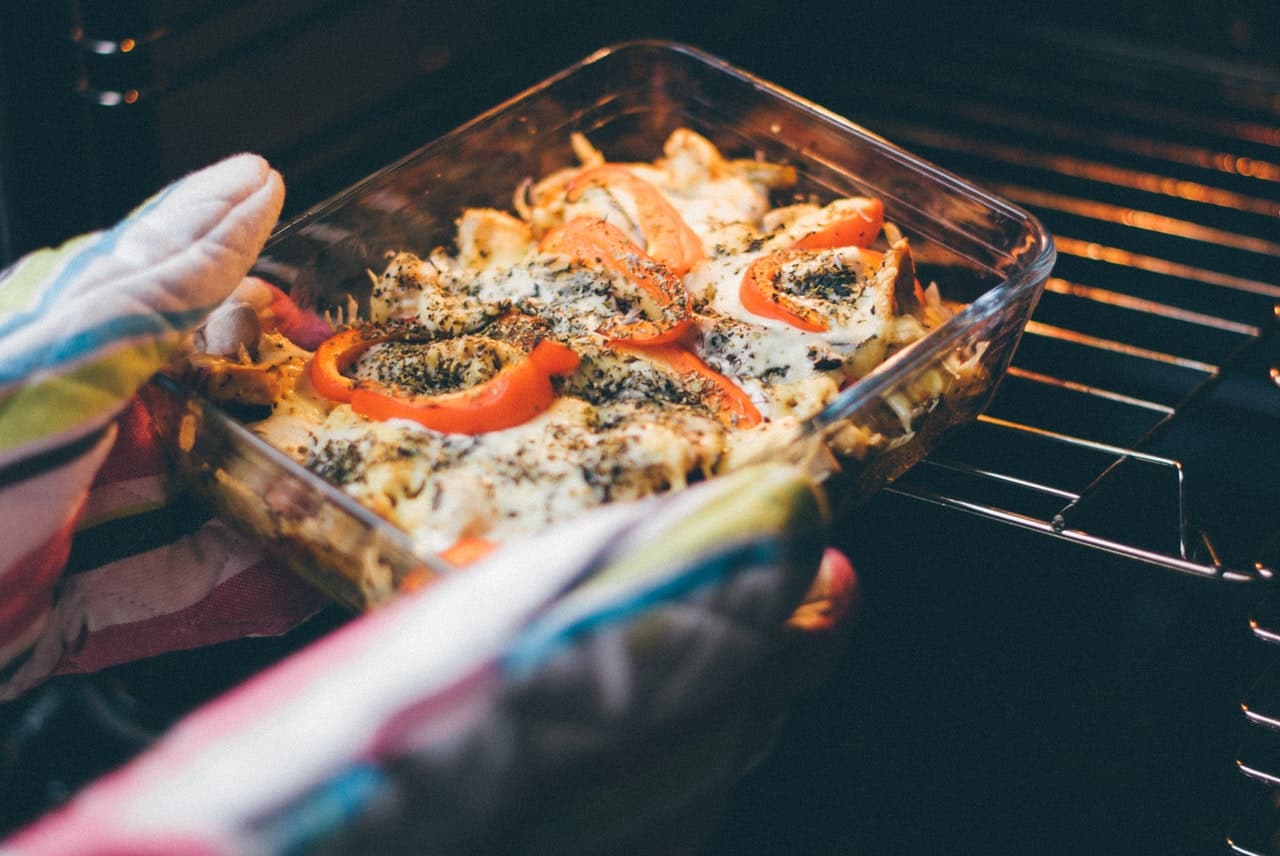 image source: pexels
What Can't You Bake in a Convection Oven?
Unfortunately, you cannot bake everything in a convection oven. You can't cook quick bread or delicate baked goods like custards or soufflés in the oven.
Due to their unique air flow, convection ovens can dry out the top of custard, cause the cake to rise unevenly, or make the cupcakes lean to one side. It's best to use this type of oven for pies, cookies, and for roasting vegetables and meat.
How We Chose Our Ratings
We chose our ratings based on versatility, performance, and efficiency. Our research led us to different sites to find what consumers find convenient and easy to use. We looked at the features of each convection oven to only list the highly-rated ovens in the market. Consumer reviews also helped us establish the pros and cons of every brand we listed.
Top Best Convection Ovens
Here are some of the best convection oven options to consider when shopping around.
Oster TSSTTVDGXL-SHP Digital Oven
[amazon box="B00OXSR486″]
The Oster TSSTTVDFXL is an incredible choice if you have a large family to feed or if you prefer inviting guests over for some celebration. While this oven is within the same price range like the Breville, it's larger and has a stainless steel finish which makes it easier to maintain.
It also has a digital display that comes with a timer that can go for 90 minutes. The timer alerts you when you need to check the food, and it shuts down the heating elements after the beep. Also, you can adjust the temperature levels or speed up cooking time for turbo convection when you need to speed up the cooking time.
With its ability to hold two racks, the Oster oven allows you to cook different foods at the same time, which saves both energy and time. The detachable crumb tray ensures that you don't need to clean afterward as it catches food.
On the downside, the Oster only comes with seven cooking functions. Furthermore, it has no reheat function, and it lacks an interior light. If you have a small kitchen, you may find the Oster oven inconvenient as it can take up more space.
Rating
Cuisinart TOB-260n1 Chef's Convection Oven
[amazon box="B01M0AWSJX"]
Cuisinart is a favorite brand with most homeowners, and the TOB convection oven doesn't disappoint. The oven boasts of several cooking options and quality build. If you're on a budget and have minimal kitchen space, you'll find the Cuisinart a perfect choice.
Another notable feature that the TOB-260N1 comes with is the speed convection mode. The function allows you to use the oven without preheating it again. You'll also love the dual cook mode which will enable you to combine two cooking modes at a different temperature.
The Cuisinart also comes with an interior light, something that lacks in most convection ovens. Other impressive features include the four rack positions, heat sensor, an automatic slide rack, automatic shut off, and a two-hour timer.
With 15 cooking functions, the TOB-260N1 model gives you several cooking options. The oven is an excellent option from special meal preparations to day to day cooking. The only disadvantage is that the exterior can get extremely hot.
Rating
KitchenAid KCO273SS 12" Convection Bake Digital Countertop Oven
[amazon box="B00EAI325I"]
KitchenAid is a reputable brand when it comes to consumer kitchen goods, and the K02733 doesn't disappoint. The oven has a 12-inch capacity and can work with food items like pizzas, cakes, and chicken.
It also has a non-stick interior, which makes cleaning a breeze. The nine preset options come in handy depending on what you're cooking. Also, for convenience, the company has incorporated a 120-minute timer and four rack placement options. If you're looking for something affordable and provides quality cooking, the KitchenAid KCO273SS is an excellent choice.
Unfortunately, this oven lacks an interior light, and you need to restart it after preheating.
Rating
Breville BOV800 XL Smart Oven Air
[amazon box="B001L5TVGW"]
If you're looking for a compact convection oven, you'll love the Breville BOV800XL. The oven comes with a broiling rack, adjustable wire rack, pizza pan, and a baking pan. Also, it has a variety of temperature ranges and consumes 1900 watts of power.
Another outstanding feature is the Element IQ that takes out the guesswork of setting cooking times and temperature. The smart oven has nine pre-programmed functions that give power where you need for each cooking task.
Furthermore, the oven has a digital display that allows you to see the temperature, timer, and preset function. You'll love how easy the dials are to use, and you can change the temperature unit from Fahrenheit to Celsius.
The impressive safety features add to the convenience and functionality that the Breville BOV800 XL exudes. When you open the door, the rack ejects, and it shuts off heating elements when a heating cycle is complete.
On the downside, the Breville BOV800 is expensive. You may realize that the exterior can get hot and the alarm is not loud enough to alert you on how your foods are cooking. The lack of interior light is also a disadvantage.
Rating
Breville BOV845BSS Convection Toaster Oven
[amazon box="B00XBOXVIA"]
Preparing food with a convection oven can be challenging the first time. However, the Breville BOV845BSS convection oven is easier to use, and it adjusts itself depending on your cooking needs.
Moreover, it has multiple preset options that allow you to press a button and wait for your food to get ready. You'll love the spacious interior and the 1800 watt heating element which makes the oven reliable and efficient.
You can prepare other different foods as the Breville oven has four rack positions. Other features include an interior light, a non-stick interior surface, and rubber feet to ensure that it's stable on the counter.
Unfortunately, some users have reported that the oven's power cord may overheat, which could damage the outlet. However, this is a rare case and doesn't happen often.
Rating
Black and Decker CTO6335S
[amazon box="B0043E6PLC"]
Black and Decker is a trusted brand, and the CT06335 convection oven doesn't disappoint. It features a non-stick interior and twelve inches of space. You don't have to worry about the temperature as its hot enough to accommodate your cooking needs.
The 120-minute timer gives you enough time to let your food cook. The two rack positions ensure that you can cook two different things at the same time.
Unlike other convection ovens, the CTO6335 only has eight preset options, which some users may find limiting. Some drawbacks of this unit are that the button labels can wear off quickly. Also, you may find it difficult to read the LED screen.
Rating
Buyer's Guide
Buying a convection oven is a tough decision. You have to go through different models to find one that fits your cooking needs. However, we have made your work easier by listing some essential factors to consider when shopping.
Here are some critical tips to help you choose the best convection oven.
Decide on the Best Size
It's ideal to know the dimensions of your kitchen space before shopping for a convection oven. These ovens come in three options mainly full-size, half-size, and countertop ovens. Countertop ovens have a large width to hold a half-size sheet pan.
Check the depth of the oven too as this will let you know if a pan will fit from the front to the back. You'll find countertop convection ovens an excellent choice if you have a small kitchen space and you'll only bake small batches at a single time.
Evaluate the Oven Construction
You need an oven with a quality build. Check the exteriors to see if they have painted steel or stainless steel material. Wielded units are durable, although expensive. Stainless steel exteriors do not get rust as quickly as galvanized steel.
The interiors may be made of stainless steel, porcelain, or aluminized steel. Most units have aluminized steel as it's economical. Find out if the ovens have rounded coved corners as they reduce everyday spills that can lead to bacterial growth. Furthermore, covered edges improve heat consistency which helps to maximize airflow.
Do not forget to check the oven doors. Solid doors are durable and provide heat retention. They are inexpensive, but you may end up with added utility bills if you repeatedly open the door.
Tempered glass oven doors enable you to check the food cooking without opening the doors. Also, these doors keep ambient heat to a minimum, which protects baked goods. Some units have triple-hinged doors for added durability.
Determine a Suitable Power Source
Gas ovens are inexpensive to operate, unlike electric ovens. However, gas ovens require professional installation.
Electric ovens are less expensive upfront to buy and are easier to install. Nonetheless, they can be costly to run due to high electricity costs depending on the prices. Full-size and half-size commercial ovens allow you to choose between electric and gas.
It's critical to note that all convections ovens need an electric power source to run the fan.
Check the Fan Features
Every convection oven has a fan as its main feature. The fan circulates the air and helps you cook the foods quickly and even. Various models have different types and fans. You'll find some ovens have a single fan, while others have dual-fan ovens,
The dual-fan ovens come with an auto-reverse feature that shifts the direction of the fan's rotation each time you open the door. The function increases effective airflow and helps the; motor wear evenly.
Understand the Temperature Range
You need to find a convection oven with the right temperature range for the items you need to cook or bake. Some ovens heat to 550 degrees while a few can only heat up to 500 degrees. In addition, some have a minimum temperature of 200 degrees, but some can go as low as 180 degrees.
Programmable or Manual
While most professionals are okay with setting the temperature and leaving the oven to run, some would prefer programmable convection as it gives the cook the full control of the cooking process.
Programmable convection ovens have automatic adjustments to fan and heat speed by touching one button. These ovens work well for bakeries and chain restaurants.
Look out for Other Features
Most models come with additional features to make your cooking fun. You'll find the cook and hold feature that allows you to switch the oven to holding mode to keep your food at the desired serving temperature.
Also, some units come with a steam option to keep your meat moist while baking. You can opt for dry ovens to dehydrate vegetables, meat, and fruit. Both these types provide the speed and consistency.
Buy from a Reputable Brand
It's essential to buy your oven from a reliable manufacturer with a history of making quality and durable products. Check to see if the warranty covers critical things that you may run into when using the oven.
You'll find that most companies have a year's parts and labor warranty, with an extra year warranty on the door. Some manufacturers may offer more depending on various factors. Be careful when operating the oven to ensure that you don't void the warranty.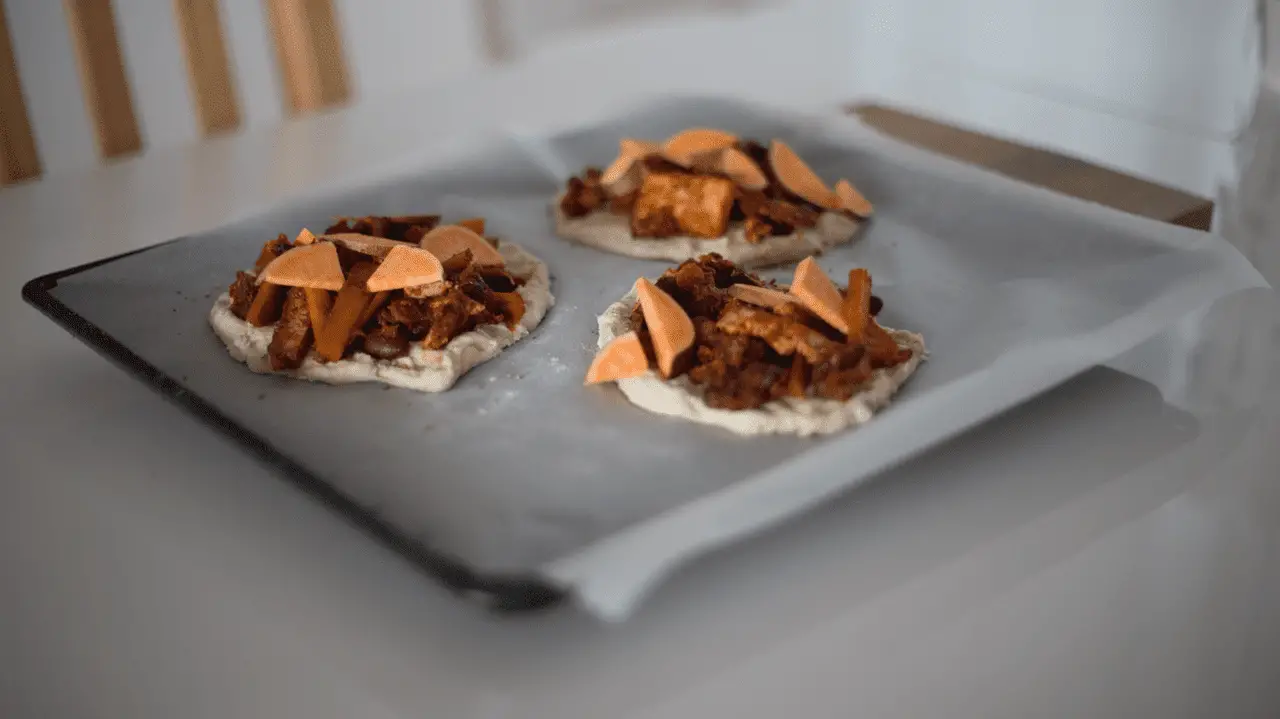 image source: pexels
Final Thoughts
Although the best convection oven may be pricier than a traditional oven, it's efficient as it allows you to cook your foods faster. Moreover, these ovens cook food evenly and allow you to place the dishes anywhere. Read our detailed buyer's guide and choose one of the above convection ovens to find one that meets your cooking needs.