*This post may contain affiliate links. As an Amazon Associate we earn from qualifying purchases.
Electric skillets make cooking and serving food effortless from beginning to end. It's a highly-desired appliance for people who want to regulate accurate cooking temperatures, cook delicious hot meals, and find an alternative to using the oven. They're compact, making them easy to clean in the dishwasher and store in an average kitchen cabinet.
If this sounds like a dream come true for you, read on to learn what to look for when selecting the best electric skillet for your needs. Then we'll show you the top 10 options you can buy right now.
Comparison Table
| | | |
| --- | --- | --- |
| ​Preview | ​Product | ​Price |
| | ​Cuisinart CSK-250WS GreenGourmet 14-Inch Nonstick Electric Skillet | |
| | ​Aroma Housewares AFP-1600S Gourmet Series Stainless Steel Electric Skillet | |
| | ​Oster Electric Skillet, 16 Inch, Black/Stainless Steel (CKSTSKFM05) | |
| | ​Rival S11P-015 11-Inch Square Skillet with Glass Lid, Black | |
| | ​Presto 06858 Slimline Skillet with Glass Cover, Black | |
| | ​Precise Heat KTES4 16-Inch Rectangular Surgical Stainless Steel Electric Skillet | |
Electric skillets make cooking and serving food effortless from beginning to end. It's a highly-desired appliance for people who want to regulate accurate cooking temperatures, cook delicious hot meals, and find an alternative to using the oven. They're compact, making them easy to clean in the dishwasher and store in an average kitchen cabinet.
If this sounds like a dream come true for you, read on to learn what to look for when selecting the best electric skillet for your needs. Then we'll show you the top 10 options you can buy right now.
​Electric Skillet Buyer's Guide
An electric skillet is designed to sauté or pan fry meals, but they're also used to brown meat evenly, deep fry foods, and prepare a quick, hot breakfast. Some manufacturers may provide models that can steam or grill food as well.
People use electric skillets rather than the burner on their stove for a variety of reasons. Many customers love them because they offer an even heating surface with a temperature gauge, so you know exactly how hot your cooking surface is at all times. Electric skillets are perfect alternative cooking methods in certain situations including:
​Traveling in an RV

​Small living arrangements, such as a tiny house or apartment with limited cooking space

​Preparing large meals or multiple side dishes, like for Thanksgiving

​Cooking during the summer, when turning on the oven can make the entire house unbearable

​Making food in places with no kitchen access, such as a motel room or dorm
Knowing what to look for in an electric skillet can help you select the perfect model for your needs that will last for years. The best electric skillet you can buy will offer even heat distribution, the ability to cook a variety of dishes, and easy cleanup.
Design
Most electric skillets are designed similarly. They are either rectangle or circle in shape and come with a tempered glass lid to hold in heat and a power cord that becomes unattached if the cord gets yanked to prevent serious mishaps while cooking. With temperatures that reach between 175 and 400 degrees Fahrenheit, you wouldn't want to trip over the cord and burn yourself.
Speaking of heat, you also need heat resistant handles to reduce your chances of burning your hands. Oven mitts can't always save you and having an electric skillet with heat resistant handles is safer and easier in the long run.
You'll also need to ensure the pan has a steam vent for safety purposes. Steam is essential for cooking, but the pressure generated from steam in a skillet can cause the lid to fly off and potentially injure bystanders. Adjustable steam vents will allow you to alter the size of the vent while cooking depending on the type of food you prepare.
The important thing to consider when it comes to the shape and design of your skillet is the sides. You want sides that are high enough so odd-shaped foods can all fit in the pan. Lower sides aren't ideal because you have less cooking space to hold your food and are more ideal for frying eggs than deep frying an entire chicken.
Size
Electric skillets vary in shape and size, with most averaging larger than your stovetop skillets. The best option for your needs will offer a good size for the price and suit your cooking needs. Think about what and how much food you tend to cook, how big your family is, and how much storage space you have to put away the skillet when it's not in use.
If your family is quite large, a bigger cooking surface is ideal. Likewise, you want to be able to lift the pan easily, so avoid a pan too heavy for you to lift with one hand. If you, on the other hand, don't have much storage space in your kitchen cabinets and only cook for one or two people most often, a smaller model may be best for you.
Materials
Aluminum is typically used to create electric skillets, and Teflon is used to offer a non-stick coat to cover the skillet. Although, ceramic-based electric skillets are common as well.
Metal utensils should be avoided when cooking on this type of pan to avoid wearing off the Teflon coating, which is actually the most common long-term issue customers tend to have with their electric skillets wearing down. Always use wooden utensils on your electric skillet to avoid scraping off the nonstick coating and ensure it lasts.
One of the most common complaints people face with electric skillets is performance and maintaining the nonstick features of your pan will help prevent uneven heating issues later. Some pans may also claim they're nonstick, without living up to the hype. Look for Teflon or PFOA-free nonstick coating to produce the best nonstick results and keep your electric skillet working well over a longer period of time.
Temperature Level
Electric skillets will also vary in the temperature levels they can reach, which determines what you can cook. A top heat of around 450-degrees is enough to deep fry chicken evenly, whereas a skillet that can only reach 400 degrees won't get hot enough to deep fry foods. If you tend to pan fry or stir-fry, a lower temperate will suit your needs better.
Drainage
When it comes to electric skillets, drainage sprouts are a must have in the model you buy. They allow you to drain any liquid from the bottom of the pan before cleaning in a less messy way, or you can drain broth or soup from your food before serving. It's a safer way to handle the hot liquid or grease in your pan without the likelihood of spilling it on yourself.
Price
The ultimate factor for many people when buying products or services, no matter what they are, you want to find a price that is within your budget. Make sure the electric skillet you select will fit your cooking needs and is built to last and find a price tag affordable to you that reflects that.
​Special Features
Some skillets come with multifunctional services that allow you to use them to cook a wider variety of foods rather than cooking the same thing repeatedly, such as a grill. However, these extra features may not be necessary for everyone depending on what you typically cook in your electric skillet. Alternatively, you may save some money by buying a skillet that can allow you to make fried eggs and grill steak if you tend to make both meals.
​Top 10 Best Electric Skillets
Here are the top 10 electric skillets that customers adore. There are the skillets with the highest user ratings, so that you can find the best bang for your buck.
Presto 06857 16-inch Electric Foldaway Skillet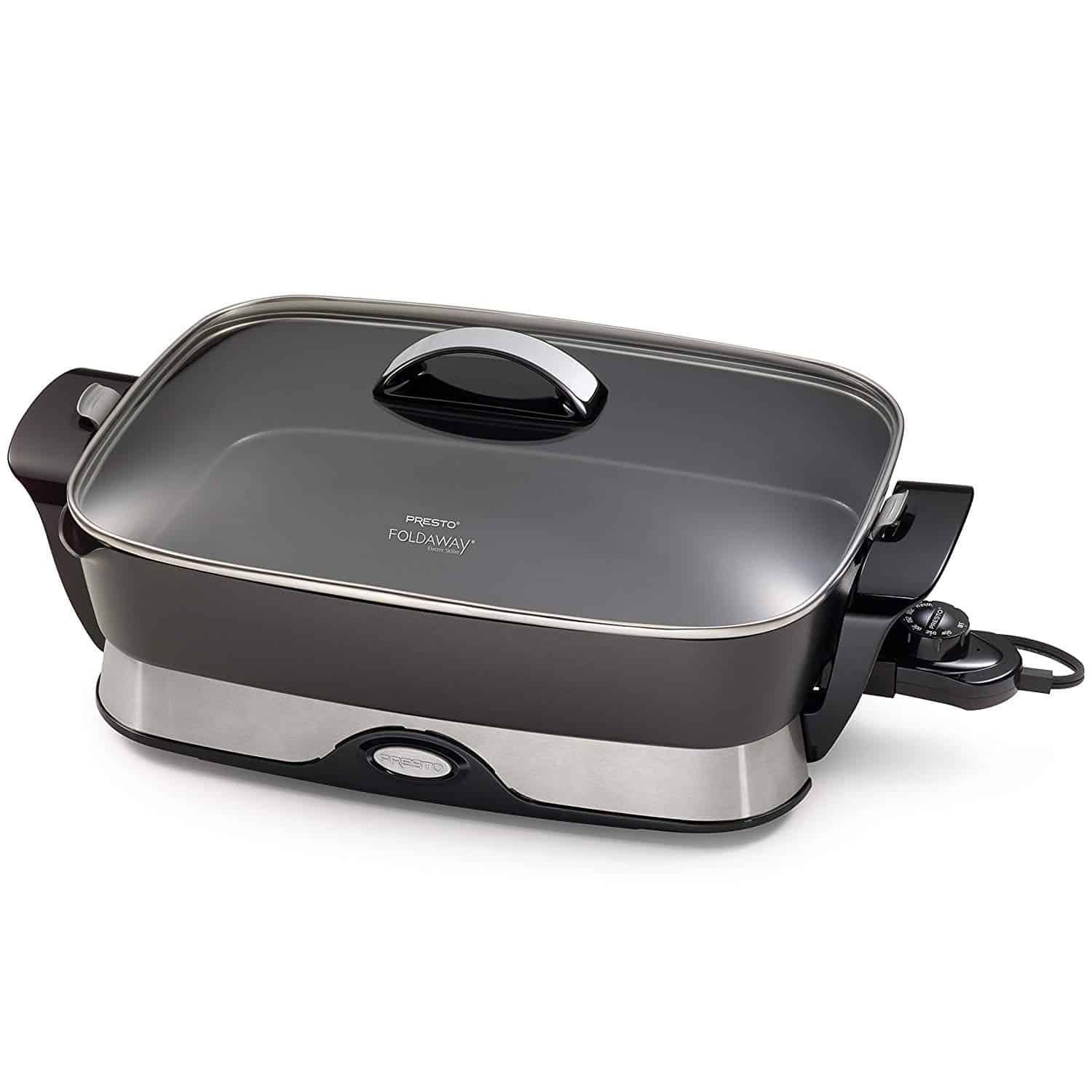 A larger skillet with the capability to fold in half for storage, this Presto model is a fan-favorite among a wide variety of customers and experts alike. It does it all! You can cook for a larger group of people with less hassle, and it's made with a heavy aluminum base and non-stick surface to cook food evenly without using as much oil. Then you can serve and keep food warm afterward in the same dish.
Plus, this model is energy efficient, comes with a pour spout, and is dishwasher safe for easy cleaning. Make a large meal or a snack on this appliance and move on with your day faster than ever. The pan and the glass cover are both machine washable, and the base and handles detach for easier cleaning and very convenient counter storage.
The only downside to this skillet is the non-stick coating, which is too delicate to last as long as many customers hope for in such a versatile, desirable, and easy-to-use electric skillet. However, it's still the model that we find most worthy of your hard-earned money.
Dimensions: 20 x 12.5 x 8 inches
Weight: 6 pounds
​Our Rating:
​Cuisinart Green Gourmet 14-Inch Nonstick Electric Skillet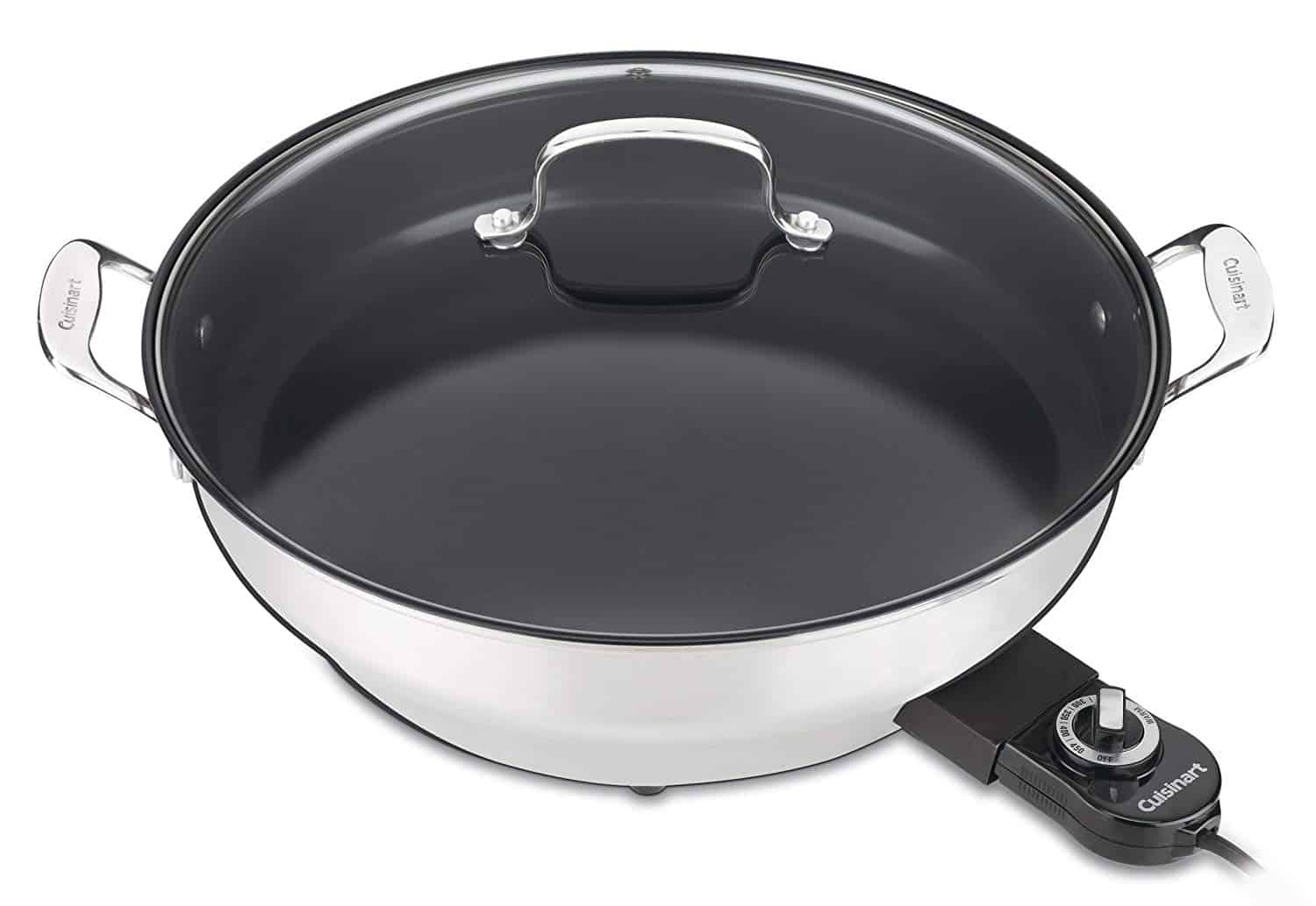 ​Stainless-steel 1800-watt electric skillet with 14-by-14-inch cooking surface

​Petroleum-free, ceramic-based, nonstick interior; contains no PTFE or PFOA

​Tempered glass lid; die-cast stainless-steel handles; embossed Cuisinart logo

​Adjustable heat; dishwasher-safe with probe removed; instruction/recipe booklet included

​Product Built to North American Electrical Standards
Made from stainless steel with a ceramic base and nonstick cooking surface that's petroleum-free, Cuisinart's 1,800-watt electric skillet reaches temperatures of 450 degrees and has deep sides to cook any way you want, without the need of butter or oil. It even comes with a recipe book, a 3-year warranty, and easy-to-clean makeup.
Buyers complain that the thermostat doesn't always seem accurate, the skillet is heavy to handle, and the handles become hot when in use. Reviews do note that this updated Cuisinart electric skillet is much more reliable than their previous model, however.
Dimensions: ​17.17 x 18.18 x 7.28 inches
Weight: ​14.15 pounds
​Our Rating:
​Aroma Housewares AFP-1600S Gourmet Series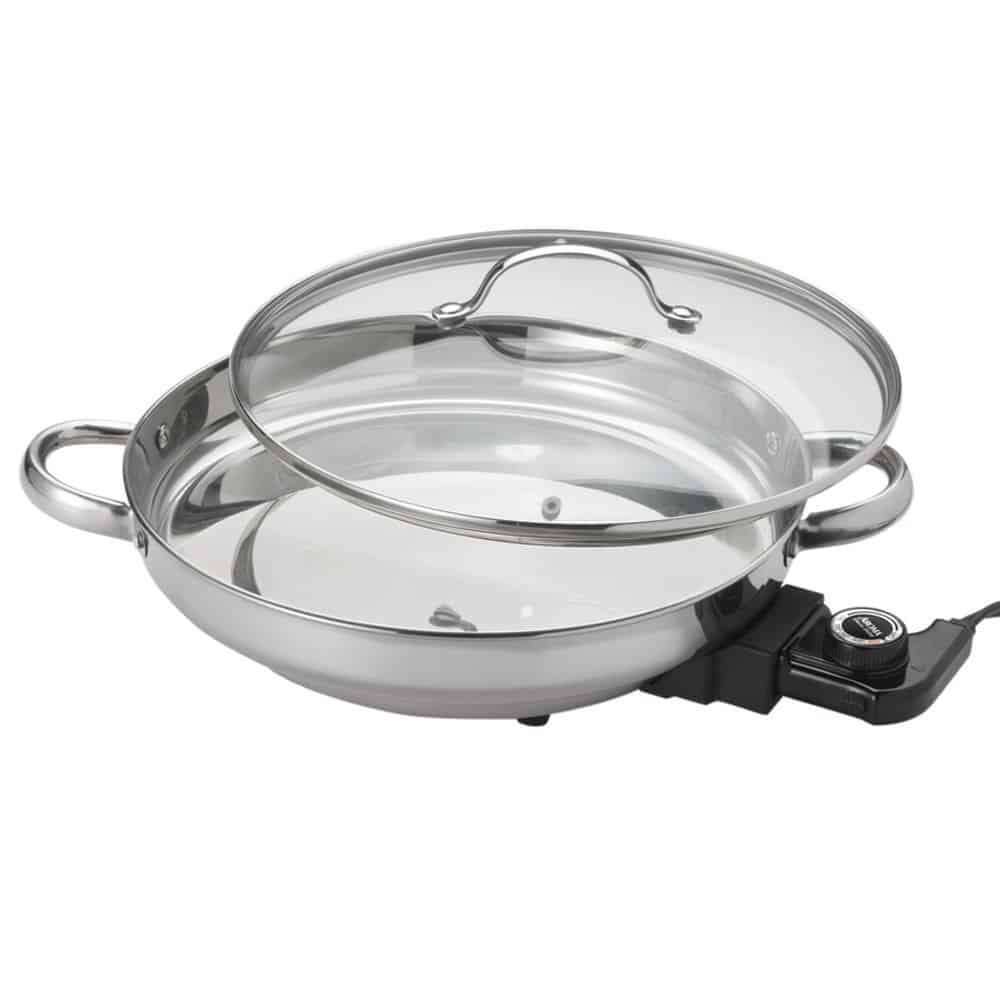 ​Large capacity – with a 11. 8″ wide by 2″ deep Pan, you can cook your favorite stir fry recipes, brown large cuts of meat, and roast your favorite veggies for a simple and easy family dinner that is a breeze to clean up.

​High quality – our AFP-1600S gourmet Series stainless steel electric skillet is made from high quality 18/10 stainless steel, and formed with an impact bonded base for even heating and superior results.

​User friendly -The easy-to-use temperature controls allow for a large range of flexible heating, ranging from 225 °F up to a roaring 425 °F. The freedom of this range allows for not only versatile meal options, but also the ability to cook wherever an outlet is while keeping an eye on your food using the full-view, tempered glass lid.

​Large, high-capacity cooking skillet

​Made from high-quality 18/10 stainless steel
An extremely lightweight model, Aroma's electric skillet is the best stainless-steel option you can find. It has no interior coating, in fact, only a stainless-steel interior that is easy to clean. This skillet will heat up quickly, cook evenly, and monitor the progress through a glass lid. If you're concerned about aluminum's nonstick coating getting in your food, this pan is for you. Plus, it's dishwasher safe.
Buyers say the Aroma also offers more cooking space than it seems. You can cook a good-sized roast, and stainless-steel skillets are said to last much longer than any other type of electric skillet and produce food that tastes much better. However, without a nonstick skillet, this option is better for people who prefer to cook with a little oil or butter.
Dimensions: ​15.75 x 1.77 x 11.81 inches
Weight: ​​5 pounds
​Our Rating:
​Zojirushi Gourmet d'Expert 1350-Watt Electric Skillet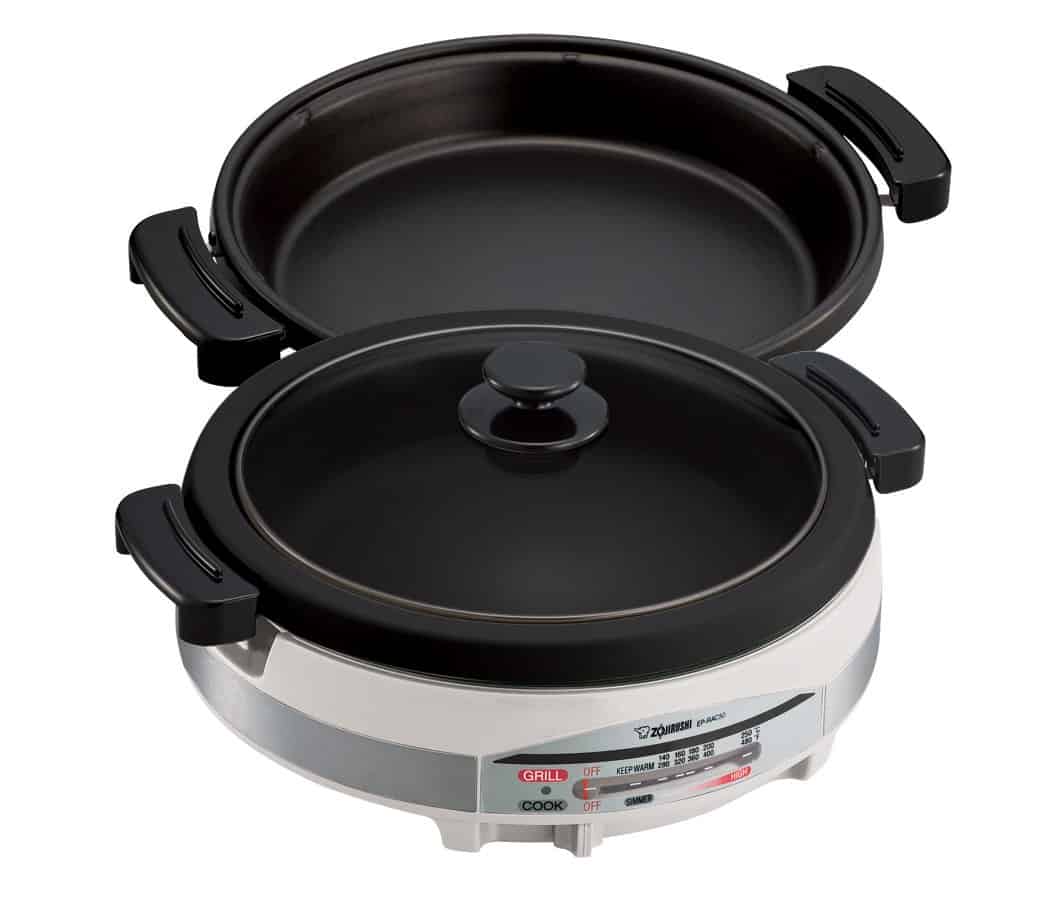 ​1350-watt multi-functional electric skillet with tempered glass lid

​Titanium-ceramic nonstick-coated flat plate for grilling

​Deep-dish inner pan for making soup or fondue; adjustable-height steaming plate

​Adjustable temperature control; stay-cool side handles; recipes included

​Measures 15 by 17-1/2 by 8-1/8 with the pan, 1-year limited warranty
Thanks to the high wattage of this skillet, it's a multifunctional model you can use to cook food perfectly. It offers two separate cooking plates with nonstick coating: one for deep frying and the other perfect to grill or steam. Users can cook a wide variety of foods with one appliance, and they adore how easy it is to use. Temperature reaches up to 430 degrees and the pan heats quickly and evenly.
The only con buyers have brought up is that the lid doesn't seal as tight as many people would prefer in order to hold in the heat. However, the year-long limited warranty is persuasive.
Dimensions: ​​15 x 6.94 x 17.5 inches
Weight: ​​​9 pounds
​Our Rating:
​De'Longhi BG45 Electric Skillet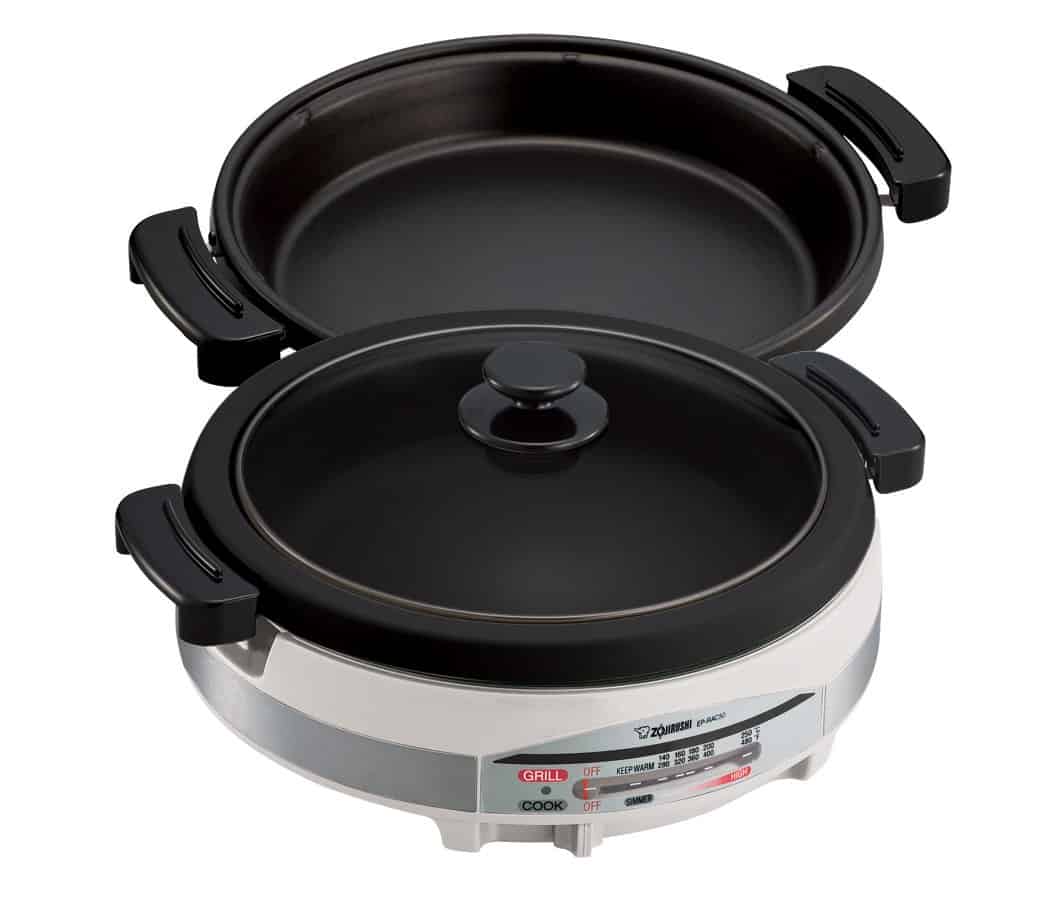 ​The embedded heating element guarantees the most efficient and even cooking in the shortest time

​Non-stick surface, External dimensions (l x w x h inches):19.29 x 11.81 x 8.47

​Adjustable steam vent holes for an easy steam evaporation, Rated voltage/Frequency (V~Hz):110-120 V

​Easy-to-clean with dishwasher-safe lid and non-stick skillet base; Simply place in the dishwasher for fast and convenient cleaning

​Die Cast Aluminum body, Input power (W):1500
A company well-known by customers for producing machines to cook healthy meals at home, De'Longhi creates high-quality products people love. The pan has a Teflon nonstick coating, aluminum cast, glass lid, and adjustable steam vent to cook your foods just right every time. It's dishwasher safe and offers 1,500-watts of power to reach up to 400 degrees. The power cord is even removable and it comes with a one-year limited warranty.
Customers say the pan heats quickly, but some claim it isn't always even. This could be caused by the large cooking surface area, but reviewers say it worked well at keeping foods warm.
Dimensions: ​​​19.29 x 11.81 x 8.47 inches
Weight: ​​​9 pounds
​Our Rating:
​Oster CKSTSKFM05 16-Inch Electric Skillet
​Electric skillet set with large 16- by 12-inch cooking surface

​Tempered glass lid helps trap heat and moisture

​Temperature probe for easy temperature setting and adjustment

​Cool-touch handles provide a steady grip for safe and easy transportation

​Dishwasher safe with probe removed for easy cleaning
Oster is a well-loved brand by customers for their reliable and affordable kitchen appliances. They're typically cheap in price, but this electric skillet provides everything you need for a great price. It has a decent rectangle-sized cooking space that comes with a probe to help you check and adjust the temperature in moments. The handles stay cool, and the base is made from nonstick-coated aluminum.
Buyers say the only downside to this model is that the base may not always keep steady heat. It's a classic style many people adore and can hold a large amount of food at once to serve big groups. However, when the sides become much hotter than the bottom of the pan, you may risk burning. This model may also be difficult to clean, depending on the size of your sink and dishwasher.
Dimensions: ​​​​6.8 x 19.8 x 13.3 inches
Weight: ​​​9 pounds
​Our Rating:
​Rival s11p-015 11-Inch Square Electric Skillet
​11″ square cooking surface

​Tempered glass lid with steam vent

​Non-stick coated interior and exterior

​Built in spoon rest

​Removable adjustable temperature control probe
With a square, nonstick-coated cooking surface. The Rival electric skillet is simple and affordable. Depending on your needs, this model may be on the small side. However, it's a smaller model that comes with dual functionality to cook and serve food. The controls are simple to use, it's dishwasher safe, and with no added bells and whistles, it's a great budget-friendly option.
People love how compact and easy to store this small skillet is, and the nonstick lining helps distribute heat well. However, reviewers claim the nonstick layer flakes easily if you don't care for your appliance just right. It's also too small for many families.
​Our Rating:
​Presto 06858 slimline skillet with glass cover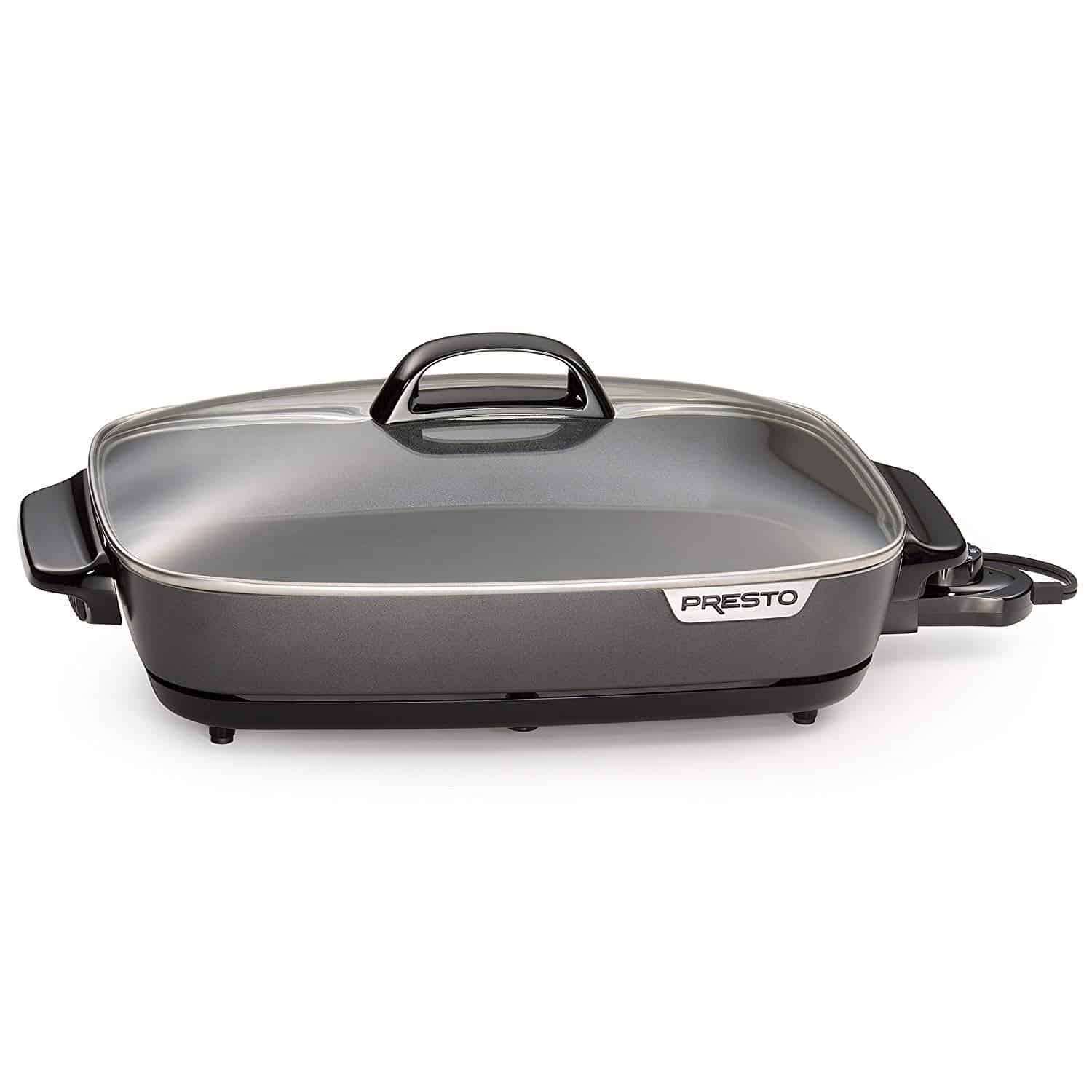 ​Roasts, fries, grills, stews, bakes, makes casseroles and one-dish meals. Luxurious tempered glass cover. Deluxe nonstick surface inside and out

​Handy for every meal. Great for breakfast, lunch, dinner, and entertaining. Low profile design makes it ideal for buffet-style serving

​Convenient! Big 16/inch pan has high sidewalls for extra cooking and serving capacity, plus it's more efficient than a range burner or over. Heavy cast aluminum pan is virtually warp-proof

​Fully immersible with the heat control removed. Control Master heat control maintains the desired temperature automatically

​Tempered glass cover and stay cool handle allow easy access and visibility
​Another foldable model from the same company as our top pick, Presto is a master at heat control and even cooking. This company offers durable and affordable options to save you time and money. You can easily adjust the temperature of this model to cook a variety of foods, and it's easy to clean. However, this model's control system doesn't handle water well, so it's best to keep it dry.
Dimensions: ​​​​​12.25 x 16.25 x 8 inches
Weight: ​​​​7.25 pounds
​Our Rating:
​Precise Heat 16-Inch Rectangular Surgical Stainless-Steel Electric Skillet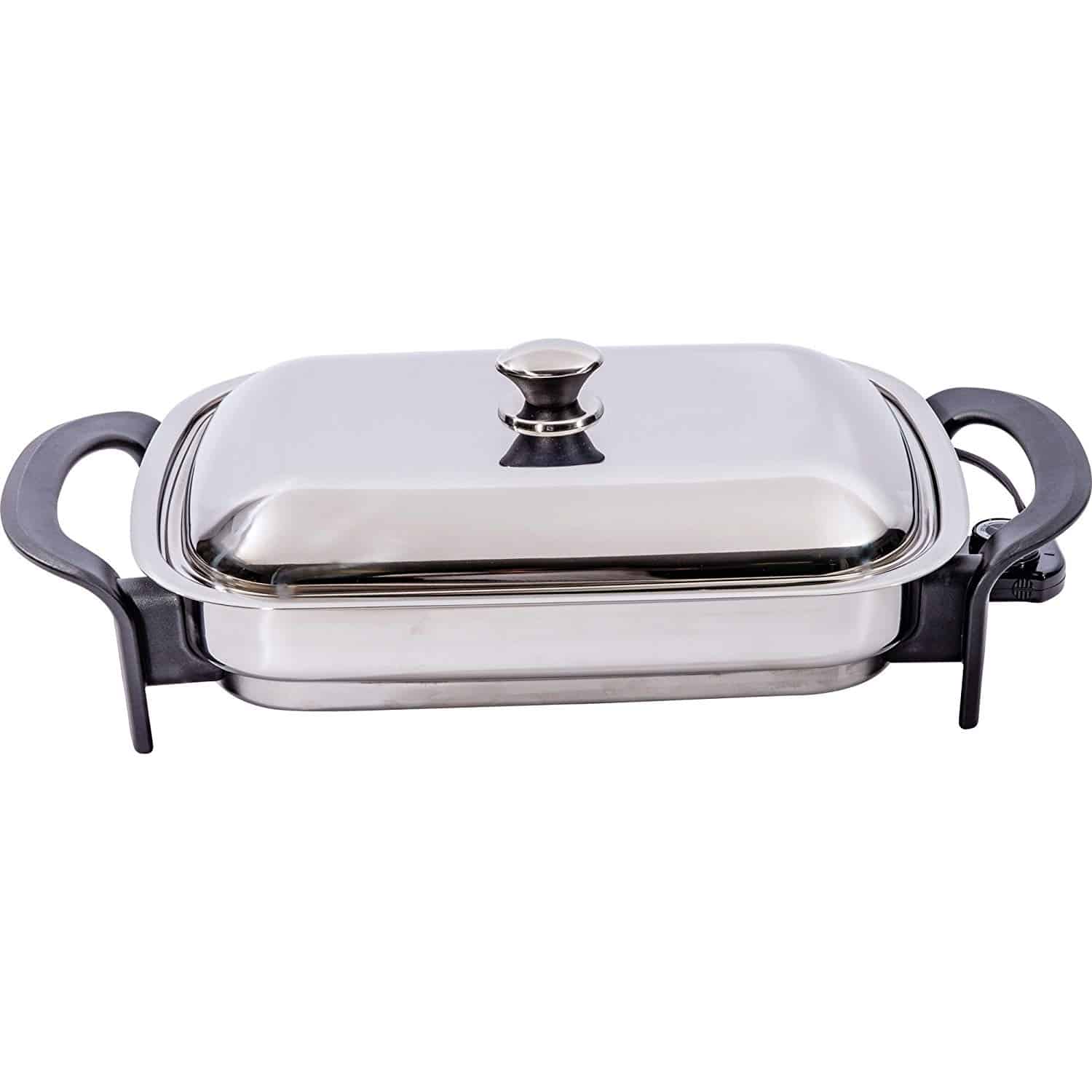 ​The Precise Heat 16″ Rectangular T304 Stainless Steel Electric Skillet is the one kitchen appliance you will find yourself using again and again

​Use as an extension of your stove, and prepare meals anywhere there is an electric outlet

​Large 16″ x 11″ x 2 1/4″ cooking surface allows for cooking multiple foods at once

​Features non-slip feet, durable, insulated handles, and adjustable temperature control

​Stainless steel lid cover to keep food warm and also protect skillet during storage
A gorgeous piece of equipment for serving food, this stainless-steel electric skillet is a large option that makes cooking huge meals easy. The feet are even nonslip to help keep the appliance in place while you're using it, and it has an appealing design to look at. Unlike the other electric skillets on this list, this model is the one that would make the best centerpiece at any event.
However, storing this large skillet is difficult.
Dimensions: ​​​​​​16 x 11 x 2.25 inches
Weight: ​​​​​14 pounds
​Our Rating:
​How We Chose Our Ratings
Finding the best electric skillet on the market in 2019 is no easy job. We delve into customer and expert reviews to see which models people enjoy using the most, explore what makes most companies produce better appliances, and find what real people are saying about each option.