*This post may contain affiliate links. As an Amazon Associate we earn from qualifying purchases.
The microwave is a marvel in the modern day kitchen. You can take just about any food item and reheat it or cook it in a matter of minutes. They're accessible and affordable plus they don't require a lot of time to figure out how to operate them.
What will come as a surprise for many is that you can microwave and enjoy delicious bacon in minutes rather than dealing with waiting for an oven or skillet to warm up. Not to mention the massive mess that comes afterward. So instead, we're going to give you some pro-tips to microwaving your bacon to perfection.
Some Things To Consider Before We Get Started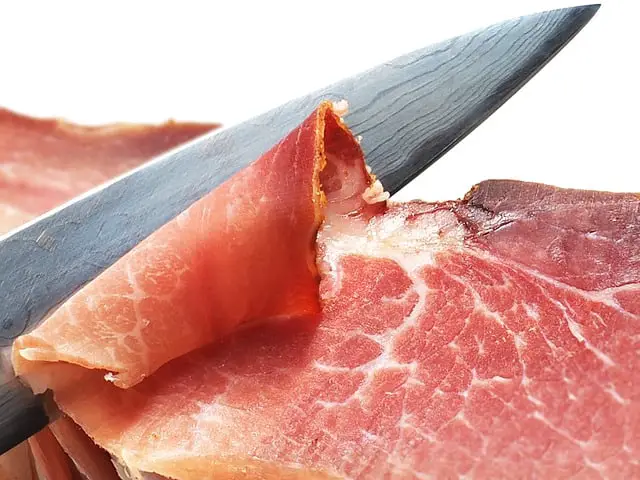 For anyone who loves bacon and likes to have it readily accessible, the microwave makes it easy to have crispy bacon whenever you need it, and it doesn't take much to get it to that point. However, there are some important things to consider as far as getting the perfect bacon every time you cook it.
Thickness of Your Bacon: Selecting thicker cuts of bacon will mean that you'll have to cook it longer, the opposite occurs with thinner slices. Ideally, give your bacon about 30 seconds more of cook time if you enjoy thicker cuts of bacon.
Power of Your Microwave: Every microwave is different, so adjust your cooking techniques appropriately.
How Much Bacon You're Cooking: If you're going to be cooking a lot of bacon then are better off opting to use your oven or skillet to get more bacon cooked faster, but a microwave creates a perfect opportunity to prepare a small amount whenever the craving takes you.
Basic Microwaving Technique
The easiest method of microwaving your bacon into Perfection would be by taking a microwave-safe plate that could hold several sizes of bacon at once and lining it with about four sheets of paper towels. You want to start with about three to four slices of bacon get you started.
Line them evenly along the plate and make sure that none are overlapping, this is especially important because you don't want soggy bacon which will be the result from them overlapping.
Once you have them evenly spaced out, you want to place two more paper towels over top of your bacon strips.
Once that's been set up, you'll want to microwave your bacon for about four to five minutes depending on the wattage of your microwave. If they do not come out as crispy as you desire, then cook them for an additional 30 seconds every time to achieve the crispiness that you're looking to enjoy.
Once your bacon is done, you want to be careful before you pull it out because there will be hot grease that has come off of your bacon during its cooking stage. Gently remove the paper towels and serve up your bacon onto a plate to cool off.
Cleanup is as simple as pulling off the paper towels that you used, and taking a warm damp sponge and cleaning out the inside of your microwave. Most of the time clean up is comfortable with this method, but you may find that the middle of your bacon isn't as crispy as the outsides. While this isn't always a problem, it can make the process unappealing if you like crispy bacon.
Using Products
Of course microwaving bacon isn't a new idea and as a result many companies of already designing several different products that cook crispy bacon in a matter of moments. As a result, some of these products may be what you're looking for if you want something that provides more even crispiness across all of your bacon.
We'll take a look at some of the more popular choices that can be substituted for a plate when it comes to making your bacon.
Makin' Bacon Microwave Rack
This little device is an excellent alternative to using a plate and paper towels because you can not only cook up to 12 pieces of bacon at a time, but it will not melt in its grease and fat. Three racks hang above a drip tray that prevents any dripping oil from spilling all over your microwave, and it only takes a minute per slice to cook your bacon evenly.
What's better is that you can use the grease trapped in the tray for additional frying, and once done with it, it's easy to clean up in your dishwasher at home. You can get this bacon rack for only $11.99 on Amazon which is an excellent investment if you plan on cooking bacon this way often.
Presto Bacon Microwave Cooker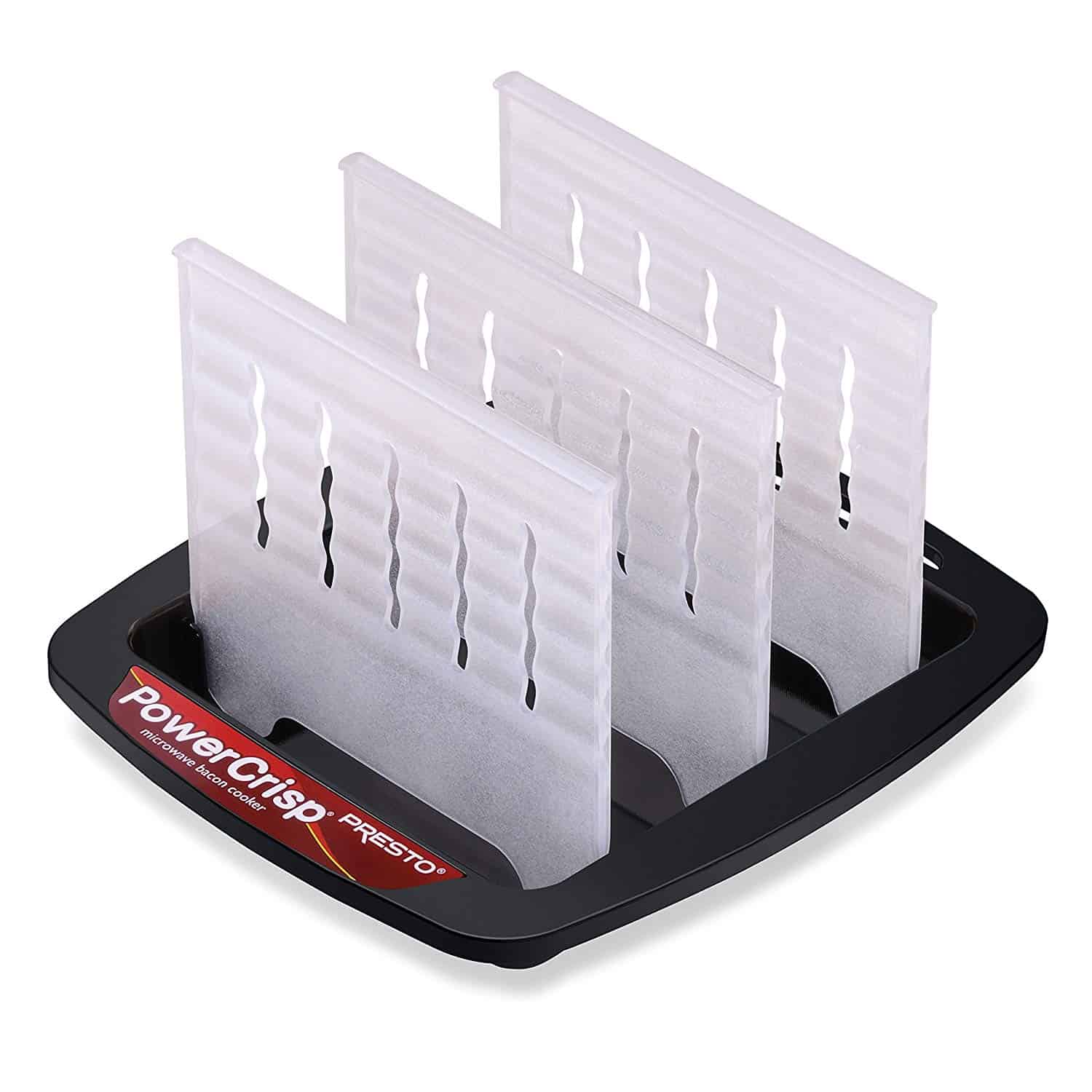 The Presto Bacon Microwave Cooker is a lot like the Makin' Bacon Microwave Rack in the sense that it holds up your bacon so that fat and grease drip into a catch-tray, which produces crispier and healthier bacon. This crisper can also hold up to 12 pieces of bacon, doesn't make cleanup difficult, and gives you the option to re-use the grease for pan-frying later.
It does have a one-year warranty, and it is easy to store away when you're not using it. The way that it makes bacon crispy is thanks to the vents designed in the walls that hold up the strips of bacon. This allows air and heat to get through, above and below your bacon, to cook it evenly.
This item sits as Amazon's choice product, and you can get your hands on one for only $14.99 through Amazon.
Prep Solutions Microwave Grill
This microwave grill does not only cater to people who need to cook bacon in the microwave. However, this bacon grill can cook up to six strips of bacon quickly and evenly. Unlike the other two models listed, the Prep Solutions Microwave Grill has a tray that catches the grease under the grill feature, rather than a rack that suspends your strips of bacon.
It features a vented lid that keeps your microwave clean by preventing grease splatter while cooking. This model is entirely dishwasher safe, which means that you'll have little to no trouble getting it cleaned and stowed away.
What's better is the price. If you like how this works, then you're going to live that its only $9.97 on Amazon right now with high enough ratings to classify this item as an Amazon's choice product.
Emson Bacon Wave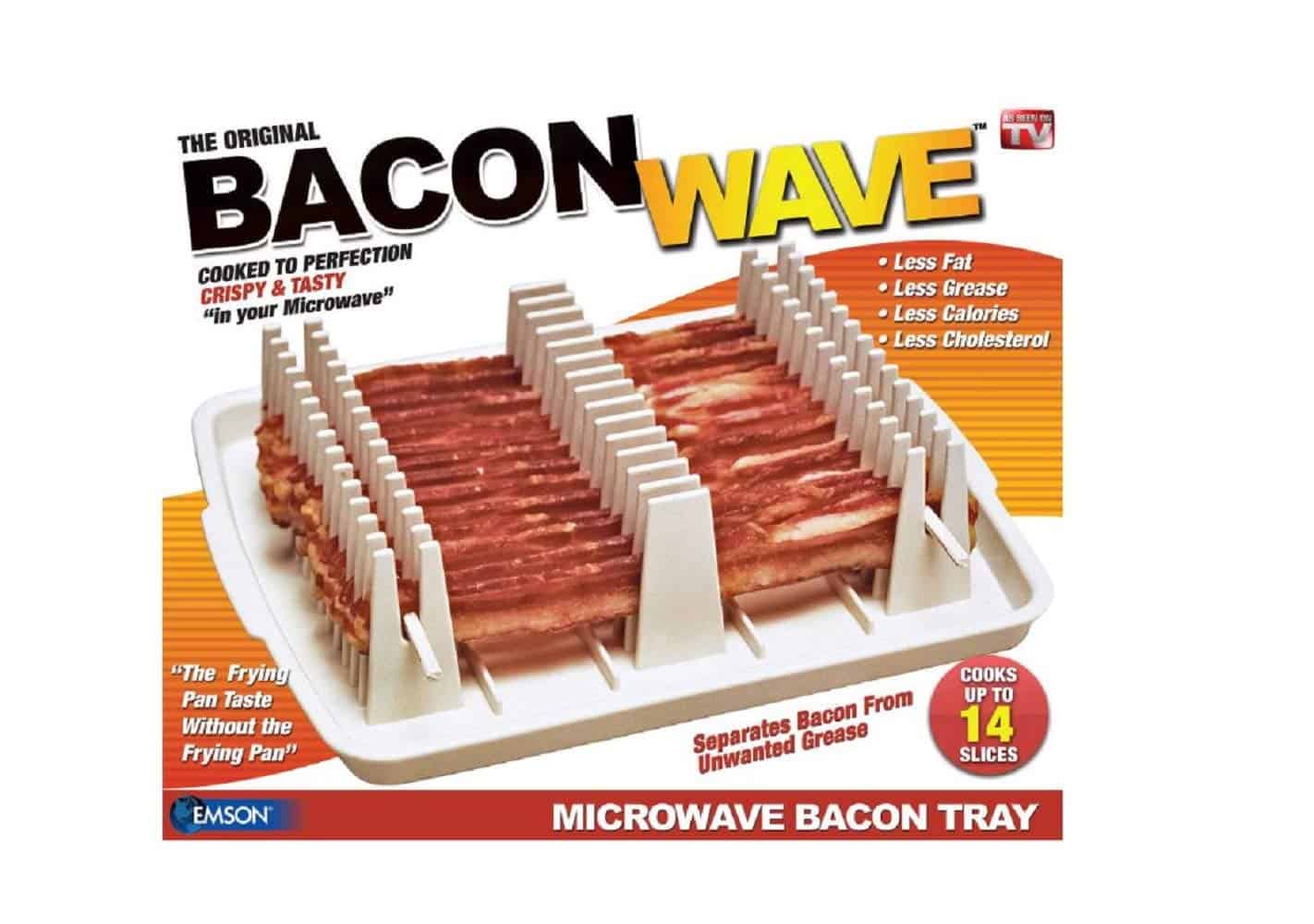 The Emson Bacon Wave can hold the most substantial quantity out of all the products in this article, supporting up to 14 bacon strips at once. At one minute per slice, based on your microwave's wattage settings, you can have 14 perfectly crisp pieces of bacon in just under 15 minutes.
The way this device works is that the bacon strips lay horizontally in racks elevated above a catch tray, and while it cooks it gives the grease a place to escape. Thanks to their spacing, heat, and air can quickly get through, which guarantees that your bacon will evenly cook. Amazon has this product listed at an affordable price of $22.24 right now.
It's entirely dishwasher safe, so it's easy to clean, and thanks to its collapsible design you can easily store away once you're finished. One of the most significant downsides for this product is the time required to prep your bacon. The tray's skewers that hold the bacon in place can be time-consuming to assemble and inconvenient to use.
OXO Microwave Bacon Crisper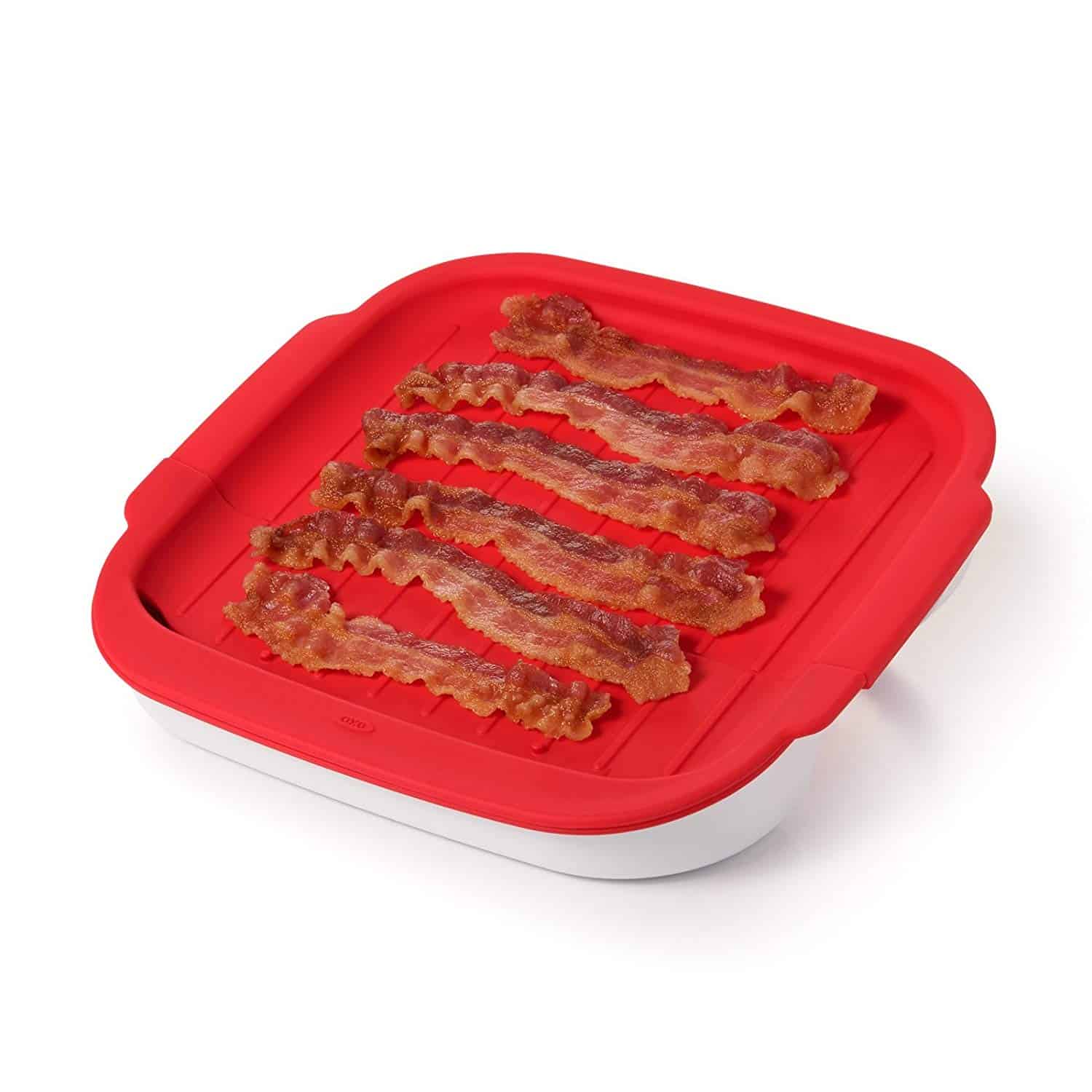 This little bacon crisper can hold up to five pieces of bacon. The silicon ridges hold your bacon up while it cooks so that all of the day and grease that drops from your bacon falls away.   The OXO Bacon Crisper also provides a drainage tray built into the bottom of the unit which captures all of the greases that drips from your bacon through slots.
This feature is where the little kickstand comes in handy. The kickstand props the tray up and at an angle, so when your bacon is cooking, gravity directs all of that grease into the trap. The cooking surface comes made out of silicone, and the removable drain lid prevents your grease from splattering out of the grease trap.
It does fold flat for compact storage needs, and you can put it into the dishwasher for easy cleaning. While it doesn't cater to large portions of bacon at a time, it's results are compelling and it only costs $19.95 to get ahold of one.
In Conclusion
Getting perfectly cooked bacon from your microwave is not hard to achieve, and there are many methods available as well as products that help you get the best results every time. These are some of the best tricks and techniques to help you achieve excellent tasting bacon with just a little prep-work and a short amount of time.