*This post may contain affiliate links. As an Amazon Associate we earn from qualifying purchases.
Meta: Learning how to pop popcorn without a microwave is a great way to still enjoy your popcorn even if your microwave breaks–but it's also a great chance to enjoy stovetop popcorn or delicious DIY flavors! We spill the beans on everything you need to know about popping popcorn yourself–including eight delicious flavors!
Pro Tips: How to Pop Popcorn Without a Microwave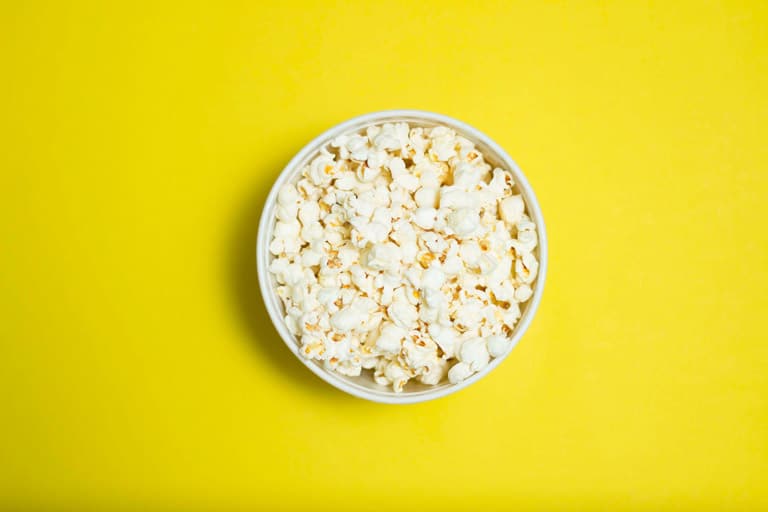 Image Source: Pexels
Popcorn is a delicious, healthy treat, but what if you don't have a microwave? Whether you have microwave popcorn, but no microwave oven or you're simply looking for alternative ways to cook popcorn, we've got everything you need to learn how to pop popcorn without a microwave!
Popping Microwave Popcorn on the Stovetop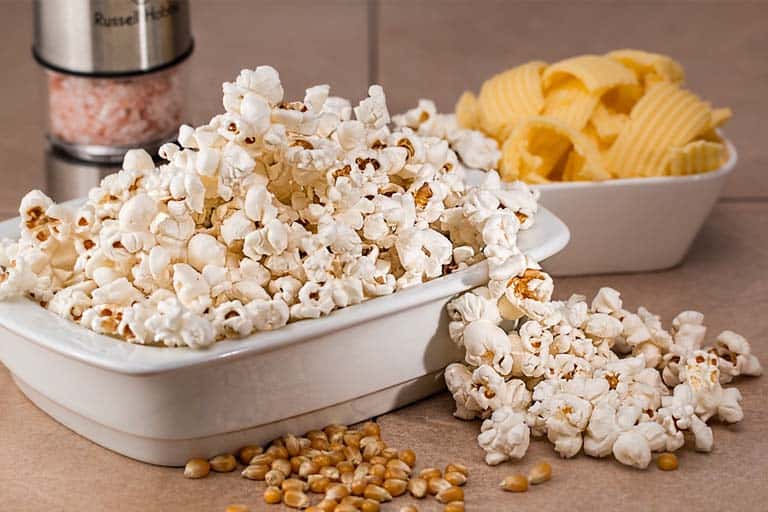 Image Source: Pixabay
Microwave popcorn is convenient–it comes in a huge variety of flavors, and you don't have to measure or scoop a single ingredient. However, most people think that you're out of luck if your microwave breaks or goes out–fortunately, that's not the case!
You can cook microwave popcorn on the stove. Here's what you need:
A pot with a glass or see-through lid

Microwave popcorn

A spoon

Extra oil (optional)
If you choose to use additional oil like vegetable oil or coconut oil, you can add 1-3 tablespoons to the bottom of the pan. Next, empty the contents of the microwave popcorn bag into your pot and turn the heat to medium or medium-high. As the oil and butter in the popcorn begins to melt, use your spoon to break up and separate the kernels.
When the popcorn begins to heat up and start popping, turn the heat down and place the lid on. If you don't use the lid, you might end up with hot, oil-covered popcorn flying out of your pan!
Once the popcorn popping has slowed down, turn the stove off and remove the pot from the heat completely. Listen carefully during this process because you don't want the popcorn to burn–about one to two seconds in between each pop is perfect.
Once you've removed your popcorn from the stove, you're ready to serve it! You wouldn't need additional seasonings unless the microwave popcorn you used was free of extra oil, salt, or flavorings. In that case, you can use melted butter, salt, and seasonings like parmesan cheese or nutritional yeast to flavor your snack!
Making Your Own Popcorn on the Stove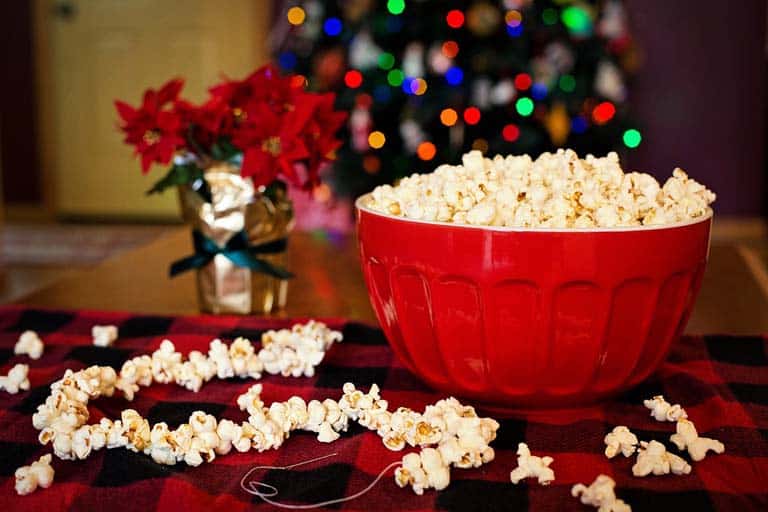 Image Source: Pixabay
Because popcorn is such a versatile snack, there are a lot of different ways to cook it. We'll cover some of those ways later, but for now, here's how to pop popcorn without a microwave on the stove!
You'll need:
¼ cup vegetable oil or coconut oil

¾ popcorn kernels or popping corn

A large, heavy pot with lid (preferably a glass lid)

Salt

Additional toppings and flavors such as melted butter
Pour the oil into the pot and bring to medium heat. Add a few kernels of popcorn–when these begin to pop, you know the oil is hot enough. Carefully pour in the remaining popcorn kernels. At this point, you can remove the pot from the heat for thirty seconds to allow the oil to remain at a stable temperature (this tip is recommended by Simply Recipes). Turn the heat down and place the lid on the pot.
Shake the pot occasionally to help prevent burning and sticking, and as the popcorn pops, listen carefully–once the popping slows to about one second in between each pop, it's ready to remove from the heat.
Now, you can add salt and additional flavors such as melted butter. Keep in mind that adding the butter first will help the rest of the toppings stick to the popcorn. Toss well with a spoon, serve, and enjoy!
Other Awesome Ways to Pop Popcorn Without a Microwave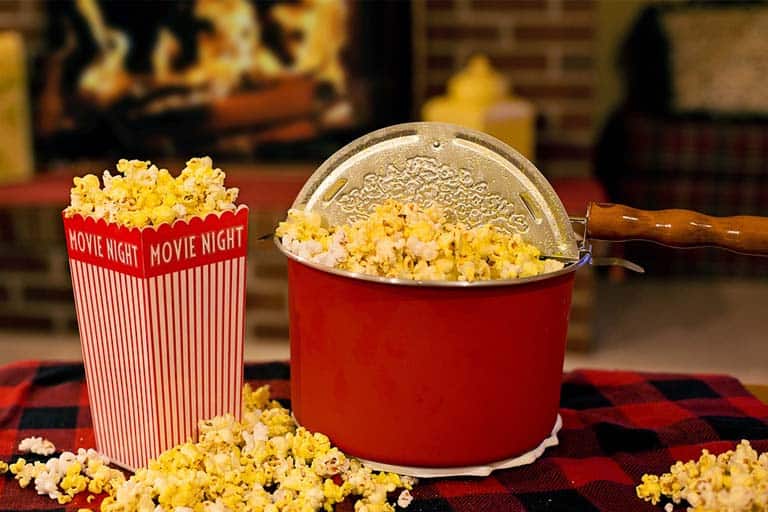 Image Source: Pixabay
The stovetop is a great way to pop popcorn, but it's not the only way to learn how to pop popcorn without a microwave. Here are some of our favorites:
1. The Whirley Pop
The Whirley Pop Popcorn Maker is a stovetop contraption designed to be much better than the standard pot for popping popcorn. It's a lightweight pan with a lid and a hand crank that allows you to use any kind of oil to pop your popcorn. It also allows you to efficiently pop a large amount of popcorn at once, helpful for families or planning for parties.
The method for using a Whirley Pop is very similar to popping popcorn in a pot on a stovetop, except that you'll continue to turn the hand crank to keep the popcorn popping evenly, just like movie theatre popcorn.
The Whirley Pop gets all sorts of incredible, glowing reviews online. People love how quick their popcorn pops and how easy it is to get popcorn just like the movie theatre, without burning it!
2. Electric Popcorn Makers/Air Poppers
There's a huge variety of electric poppers that allow you to simply plug in your device, add your ingredients, and voila! You've got delicious popcorn without a microwave! Some electric popcorn makers are air poppers and allow you to pop your popcorn kernels without using oil.
If you're health conscious or want to cut down on your fat and oil intake, this is a terrific alternative to microwave popcorn.
3. Use a Grill
Did you know you can pop popcorn on a grill or campfire? Here's what you need:
An aluminum pie pan

Large pieces of foil

½ cup of popping corn

One tablespoon of oil (vegetable, canola, olive, or coconut oil)

Salt
Once your grill or campfire is going, mix all the ingredients in the aluminum pie pan. Using the foil, create a large airtight dome over the pan. Use tongs to place the pan over the campfire or grill and then shake occasionally till the popping has slowed down. Open the foil carefully to avoid being burned by steam.
Beyond Salt: Tips for Flavoring Your Popcorn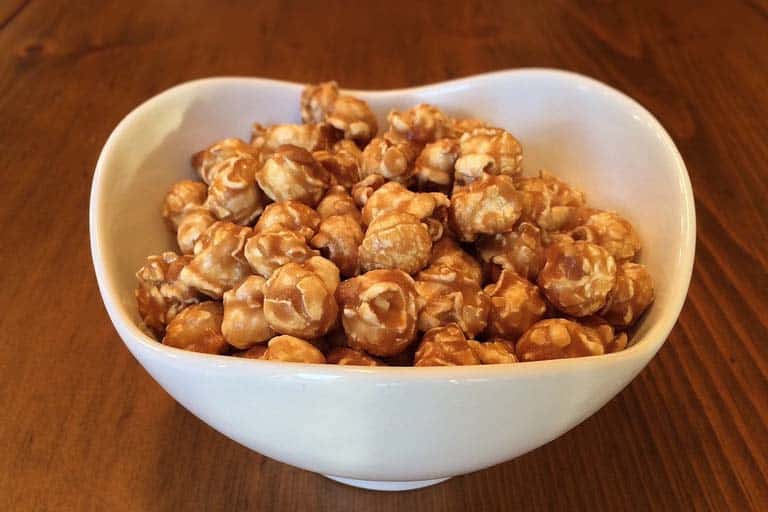 Image Source: Pixabay
The great thing about learning how to pop popcorn without a microwave is that you can make the flavorings as healthy and exotic as you'd like. Here are some ideas:
1. Chocolate Drizzle Popcorn
Melt milk chocolate, dark chocolate, or white chocolate (or all three!) and drizzle all over your popcorn. You can also use kosher salt or salt flakes to enhance the chocolate flavor or even toss with nuts like almonds or peanuts.
If you don't want to go through the trouble of melting chocolate, you can simply toss hot popcorn with a handful of mini chocolate chips. Add mini marshmallows, small pretzels, or even cereal like Lucky Charms for an extra fun flavor boost.
2. Super Cheesy Popcorn
Cheese and popcorn are a natural combination, in part because of the natural umami flavoring in cheese. For a delicious DIY recipe, toss your freshly popped popcorn with shredded cheddar cheese, parmesan, and pecorino and then toast on a baking sheet in the oven for a couple of minutes until everything is melted and delicious.
3. Everything But the Bagel (and other seasonings) Popcorn
Trader Joe's is infamous for its Everything But the Bagel seasoning that's yummy on everything from bagels to eggs. And guess what? It also tastes great on popcorn! Whether you use butter or oil or not, you can sprinkle the seasoning straight onto your popcorn for a savory punch.
Other seasonings are great, as well, including nutritional yeast, chili powder, pumpkin spice, parmesan cheese, and flavored salt.
4. Mexican Hot Chocolate Popcorn
For a sweetly Mexican flavor, dust popcorn with cinnamon, cocoa, and sugar for a delicious churro-flavored treat.
5. Mustard-Pretzel Popcorn
Gardetto's is famous for its mustardy crunch, and you can replicate that flavor in a DIY popcorn mix. Use sea salt, dry mustard powder, cayenne pepper (optional), and small pretzels for a real kick that keeps your taste buds happy.
6. Spicy Sushi-Style Popcorn
Calling all spicy food lovers! Use wasabi and butter to create spicy popcorn; you can't stop popping. Freshly popped corn is a natural foil for the bright punch of wasabi, and the butter and the extra fat in the butter will help everything blend beautifully.
7. Parmesan & Rosemary Popcorn
Rosemary pairs naturally with parmesan, and parmesan's high salt content and deep umami flavor blend perfectly with popcorn, so it's safe to say that parmesan and rosemary are a delicious pair. You can use fresh, chopped rosemary or dried, crushed rosemary, but try not to use dry rosemary springs–those can be unpleasant to snack on!
8. Spicy Bacon Popcorn
Speaking of umami, there's nothing like crispy bacon to take the flavor of popcorn from zero to one hundred in sixty seconds. Add pickled jalapenos for a spicy kick or, if you'd rather keep things toned down, you can use a packet of ranch dressing mix to make bacon ranch popcorn!
Learning how to pop popcorn without a microwave is worth the extra minutes thanks to the delicious flavors you can make yourself. Plus, it's easy and much healthier (and usually cheaper) than most of the microwaved popcorn you'll find today on your grocery store shelves.