*This post may contain affiliate links. As an Amazon Associate we earn from qualifying purchases.
If you're looking for a cheap, small countertop microwave that won't take up too much room in your small apartments, learn what real customers say in their Rival microwave reviews before you buy. 
Rival Microwave Review 2019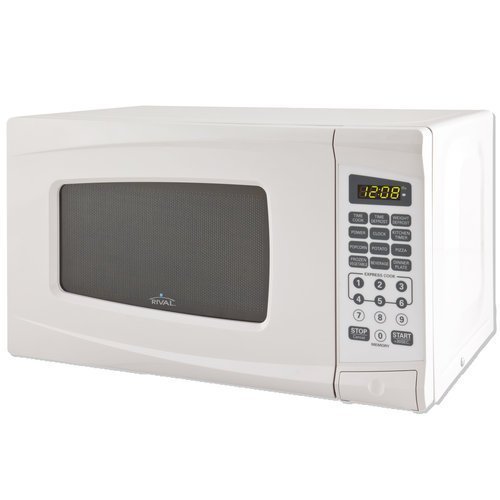 The best microwave goes beyond reheating leftovers and making popcorn; it makes cooking a wide variety of different foods easier than ever before. But if you don't want to waste your hard-earned money on an appliance that won't last as long as you expect, you need to see how each microwave holds up among other top-rated and tested models.
Learn what to expect from your new microwave before you buy in our complete Rival microwave review, with background on where the company came from to what real customers say about their experiences using the unit.
What Is a Rival Microwave and How Does It Work?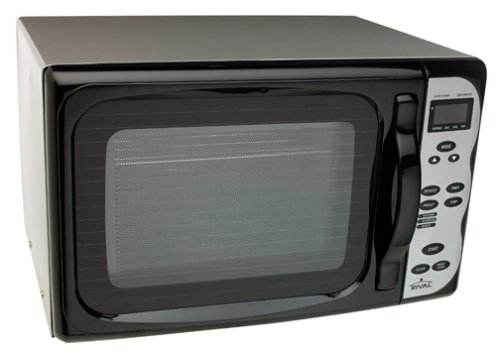 Rival is an American company that makes various kitchen products and small appliances, from air fryers and rice cookers to microwaves and electric skillets. They started out in Kansas City, Missouri in 1932, founded by Henry J. Talge, and produced food preparation products until they shut down in World War II to produce ammunition instead. Post-war, Rival expanded to include home appliances.
Today, they're run by the Jarden Corporation (now part of the Newell Brand company), which is a leading provider of quality and trusted kitchen products that are sold around the world. They have over 25,000 employees who operate a number of well-recognized brands, such as:
Coleman

Breville

Mr. Coffee

Sunbeam

Seal-a-Meal
First Alert

Spontex

Billy Boy

First Essentials

Rawlings
Among many other well-known brands and the awesome products that they create, the Rival brand name is licensed by Walmart. The store holds exclusive rights to their brand name and logo for small appliances, although Crock-Pot was an appliance they marketed as its own brand.  
Rival Microwaves
Rival microwaves come in two popular models today: The Rival 0.7 cubic-foot digital microwave and the 0.9-cubic-foot model.
The Rival 0.7-cubic-foot microwave offers 10 power levels to cook a variety of different foods, with a few one-touch features for heating up specific foods, such as pizza and popcorn or beverages. There's a defrost setting, a kitchen times, and a signal that goes off when your food is finished cooking. The child safety lock keeps kids safe, and it comes with a year-long limited warranty if anything should break.
This model offers 700 watts of power to cook food to perfection, which isn't an entirely high wattage but will get the job done. This model, numbered RGTM701 or RGTM702, comes in either black or white. A digital and compact countertop microwave, it saves space on the average kitchen counter and works perfectly in smaller kitchens or dorm rooms.
The slightly bigger 0.9-cubic-foot Rival microwave offers customers a little more. You can heat up a quick snack or reheat a meal using 10 different power levels and 900 watts of power. There are six program settings and a defrost feature to heat various foods at the touch of a button, and like the smaller model, it comes with a digital touchpad to control the unit and a clock with a timer to alert you when your food is finished cooking.
The safety lock on this microwave discourages kids from using the model unsupervised as well, which makes this a great unit for families. Unlike the smaller 0.7-cubic-foot model, this microwave only comes in black.
What Makes a Rival Microwave Unique?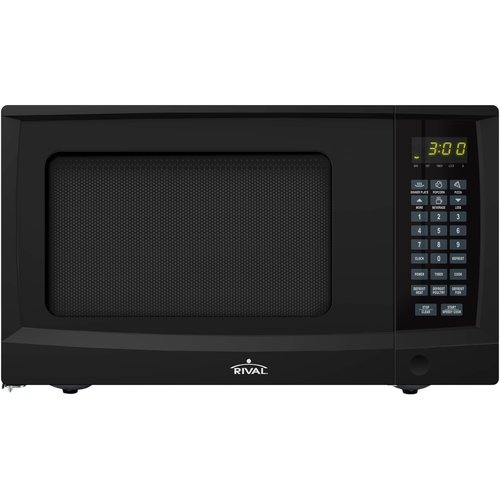 The smaller Rival model is perfect for a cramped office or small apartment, and it comes with all the cooking options most customers look for. The best part about this microwave is that it comes with an express cook function that heats up food in moments.
For the most part, Rival doesn't really stand out from the crowd. The 700 or 900-watt units aren't especially powerful, the design isn't sleek and beautiful, and the technology isn't more advanced. However, Rival is a highly affordable model and perhaps the cheapest microwave you can buy.
Pricing Information
Where most microwaves on the market today cost an average between $50 to $800, Rival units are cheap. Even when matched up against other small microwaves, their models cost less on average. They're highly affordable for consumers, and they come with a decent amount of features for the money.
Rival microwaves are available on Amazon for around $50, but you may also find the same models at Target or Walmart for close to the same price, starting at $49. You can find deals on sites like eBay, where a Rival microwave goes for around $20-$40, but expect a used model that may not come with the user manual or original packaging.
Public Perception of the Rival Microwave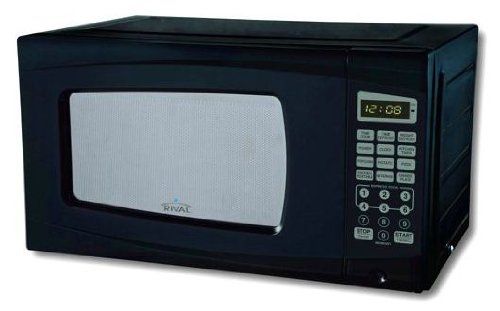 Overall, customers' Rival microwave reviews are not highly positive. Many users say the product is unreliable and loud when you operate the unit. The performance is also unsatisfactory, with many customers saying they would never recommend this product to a friend.
When it comes to the smaller 0.7-cubic-foot unit, customers say they adored how the smaller microwave allowed them to save precious counter space, which was the most common reasons the public seems to purchase this model. It's easy to clean, and you can figure out how to work the microwave without any help from the instruction manual. Design-wise, it's a simple model that offers a few pre-programmed settings to save time without being too complicated.
Plus, this durable model is built to last. It comes with a warranty, which helps customers feel peace of mind in knowing their microwave will last a few years to come. Users say they can set things on top of the model without any issues, even while it's in use, and customers don't seem to have many problems with denting or scratches.
However, many people are discouraged using the unit. Reviews say the program settings, including the defrost, don't heat food thoroughly or evenly. Instead, you need to repeat the process and the food you wind up with seems drier than most microwaves would produce.
If you need a microwave for the office that's only used to pop popcorn or melt butter, this microwave performs fine. When it comes to other foods, reheating often results in food that's still cold in the center. Plan to reheat a few times and allow your food to cool down before you eat. You're also better off defrosting meat in some hot water in the sink than in this microwave.
Customers also say the beeping alarm on this microwave is beyond annoying, with the alarm sounding long after you open the door and take your dish out of the unit. The loud sound can wake up sleeping people in the house, which a concern for many people with young children or roommates that have different schedules. There's no way to silence the machine's alarm.
The microwave makes a strange clacking noise while it's in use, and while most people don't know exactly where the noise is coming from or why it stops when the unit is no longer in use. You can actually even hear the noise in this YouTube product review.
Another wide complaint involving this microwave is the glass plate that's supposed to rotate in the center to help the machine cook your food thoroughly on all sides. Customers say the glass plate in their models never stayed where it was supposed to, so you would have to constantly place it back on track to use the microwave. Because it will go off course, the food doesn't heat evenly no matter what you do. Other people find the plate not large enough for the unit, making it difficult to cook certain foods.
Customers say the inconsistencies in thoroughly cooking foods all the way through are random, with cook times varying from one day to the next. Every time people use this microwave, it seems to perform differently. The technology designed to time how long it takes to cook each food must be off.
Experts also claim the materials Rival uses aren't exactly the safest. Many of their microwaves are made using plastic and glass. Customer Rival microwave reviews on Amazon claim the door switch didn't work, the glass plate arrived broken, and some new models even sparked and caught fire when they were first plugged in. Some people even say their model turns on and off at random.
Based on customer reviews, most models only make it around six months before something breaks – whether the gears under the rotating plate stop working or something else breaks. However, people who bought a model with a warranty often claim their unit has no issues.
How Rival Compares to other Microwaves Today
Compared to other small, cheap microwaves on the market today even along the $50 price range, Rival doesn't hold up to their competitors. This may be why when you head to Rival's official website; microwaves aren't even listed under as one of their available products.
You must search for microwaves before you can find any options available. Although, Rival is owned by the same company who owns Sunbeam, another company that creates affordable and more reliable microwaves.
The biggest competitors to these smaller, affordable 0.7-cubic-foot countertop microwave models come from Emerson and GE. Both a similar in size to Rival, with easy to use features and pre-programmed settings. However, these two brands are more highly ranked for value because they use more high-quality materials and perform well.
While Rival offers customers the lowest price tags available, the Emerson countertop microwave offers a lot of the same features. It has 700 watts of power, like most other units this size, only it's actually quiet when in use. This model is ranked higher in terms of customer satisfaction, and people feel like they get a better value for a similar price tag.
GE's 0.7-cubic-foot models is also a 700-watt countertop microwave with a digital display and pre-programmed features. With this model though, customers receive a higher level of satisfaction. The model cooks food evenly and the appearance is appealing in any kitchen. The microwave performs reliably, and it offers excellent value for the below average price.
For a little extra money, you can also buy a microwave that's larger in size or offers a higher wattage to help cook food the right way every time. You don't have to worry about the plate catching along the sides and stopping to rotating plate from moving or needing to attempt reheating your food multiple times before it's hot enough all the way through.
Even if you need a compact model, there are other microwaves on the market right now that will perform better and last much longer for $50. The RCA 0.7-cubic-foot microwave is raved about in expert reviews due to its performance and low price. It offers the same features as Rival, but people say the model is pretty to look at and the one-touch cooking programs hold up under pressure.
​What We Think
Overall, Rival microwave reviews aren't highly positive. Whether you look at what customers have experienced when using the small or larger models, Rival's units work okay. They don't always heat food all the way on the first try, and it may take a lot of guesswork to use this microwave. However, it's a small countertop model that's perfect for people who don't use it much.
We suggest you save the $50 you would spend on a microwave that may only last you half a year or so and instead look for a better model, perhaps from RCA, Emerson, Oster, Black, and Decker, or any other top brand name that offers small, 700-watt models. Better yet, spend a little more and get a microwave with higher wattage to ensure your food is cooked thoroughly.