*This post may contain affiliate links. As an Amazon Associate we earn from qualifying purchases.
Being a busy adult doesn't always go well with a healthy lifestyle. More often than individuals who are in a hurry constantly are likely to grab bad for you frozen meals, fast food, or other junk when what they need is a healthy dose of vitamins and minerals to help their bodies survive the constant stress that goes with their lifestyle.
Fortunately, Americans have begun to demand healthy options, even for those of us who barely have time to eat lunch. Our health focus has resulted in the age of meal kit and planning services, organic and fresh faster food options, and even healthy microwavable meals that take the guesswork out of grocery shopping.
The unfortunate side of healthy microwave meals becoming popular is that some companies will do anything to make their food look like it belongs in the "health conscious" category when the reality is far from healthy. We took a hard look at the healthy microwave meals out there to find out which ones work and which fall flat in both flavor and overall nutrition.
What Makes a Microwavable Meal Healthy?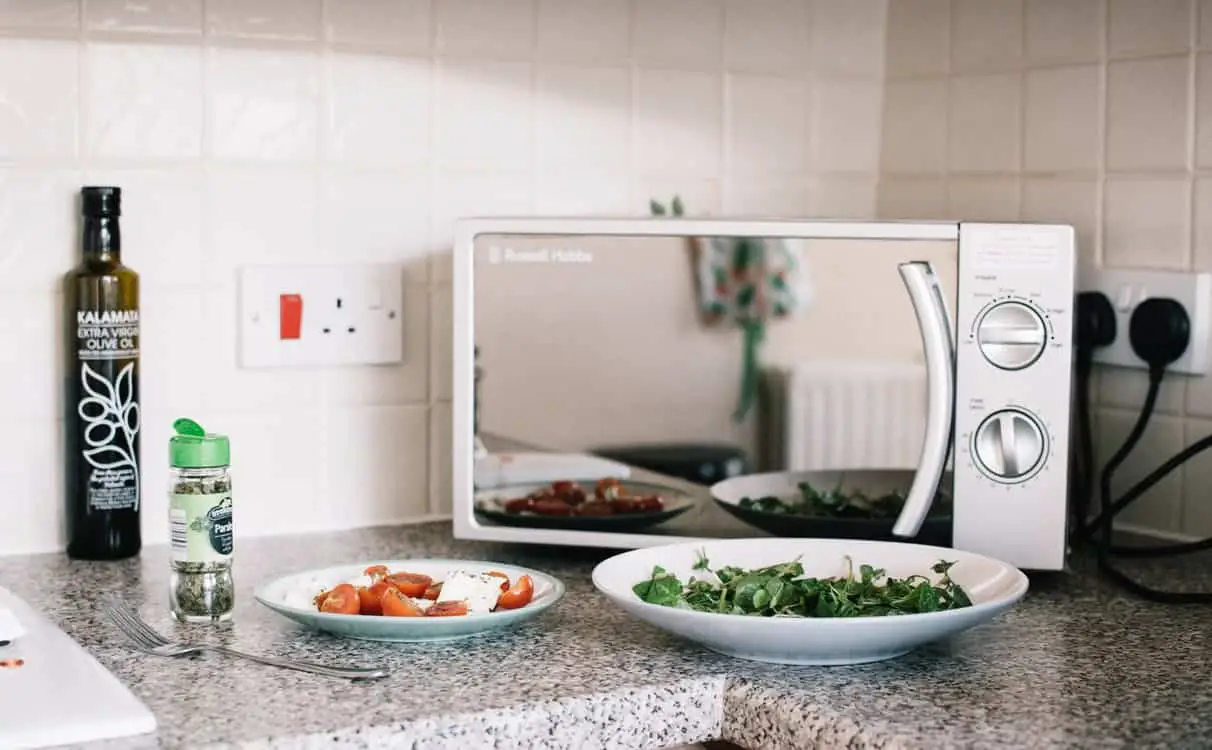 Image via pexels
There are many factors to health that we need to take into account here. First, there is your lifestyle. Are you on a specific diet, or are you just trying to gain the best overall nutrition from your food? Does every nutritious meal have to include all major food groups? What are the latest standards of health? We know it can be confusing, so we'll tell you how we broke it all down.
How We Choose Our Ratings
We wanted to choose our products on a single scale to help bring clarity to the sometimes-confusing world of health conscious eating. To do this, we examined each product based on the following categories:
Variety of nutrients offered

Works within specific lifestyle (e.g., vegan, vegetarian, gluten-free, Paleo, etc.)

Low in sugar

Focus on good fats

No sodium overkill

Main ingredients are protein-focused (animal and non-animal based)
Looking at all of these categories, we were able to come up with a list of microwavable meals that were considered the best of the best for overall health for both adults and children alike. We believe that there is something (or maybe a couple of things) on this list for every lifestyle, but we've rated each meal individually based on all of our criteria above.
Top 14 Best Healthy Microwavable Meals
Now that you know how to shop for the best meals, and how we went about choosing our ratings for the meals we've listed below, let's get to the details. We found 14 awesome healthy microwavable meals for you to try next time you're in the market for a good meal without the hassle of cooking.
Amy's Asian Noodle Stir Fry
With only 240 calories and four grams of fiber, we think you'll enjoy this tasty treat. Amy's is a brand that prides itself on fitting into a variety of lifestyles and is always GMO-free. This particular meal is dairy and gluten free, vegan-friendly, and kosher. The packaging is truthful at only one serving per box, and it contains a good variety of vitamins and nutrients.
Ethnic Gourmet Bowl Pad Thai with Shrimp
Ethnic Gourmet has a decent variety of meals for those of you who like world flavors. Their ingredients are very real, and they don't contain any of the preservatives on our no-go list. This meal is higher in calories at 410, but you'll get almost half of your daily requirement of Vitamin A with this single meal, along with some Vitamin C, Iron, and Calcium.
Lean Cuisine Chicken in Sweet BBQ Sauce
Lean Cuisine can sometimes be less healthy than they let on, but not in the case of their chicken in sweet BBQ sauce meal. This meal has 22 grams of protein and is gluten-free. It only has 290 calories as well, keeping you at the low end of your allotted amount per meal. It is a bit higher than we'd like to see in sodium, though, so it's not at the top of our list.
Trader Joe's Chicken Tandoori with Spinach
At only 360 calories, this meal from Trader Joe's comes in fairly low on the scale of your allowed calories per meal. It is high in sodium but has plenty of protein, Vitamin A, and Vitamin C to help make up for it. It's also got the most calcium we've seen thus far on our list at 200mg per bowl. This meal is also low in fat and sugars to help you meet your fitness goals.
Healthy Choice Cajun Shrimp and Chicken
Another option for those of you who are gluten-free, this Café Steamer by Healthy Choice is a good option for individuals looking for ultra-low calories. The meal contains only 220 calories, which puts it in the lower end of calories on our list thus far. It also has 15 grams of protein to help keep you full. We don't love all of the ingredients, especially the added preservatives.
Smart Ones Rigatoni with Broccoli and Chicken
Smart Ones works with Weight Watchers, so if you're looking for a full diet plan that you can follow with the help of healthy microwaveable meals, you may want to give them a second look. This meal contains only 260 calories and is high in protein. Smart Ones brand is proud to contain no preservatives as well. This meal does contain both dairy and gluten.
Gardenburger Meals Meatless Citrus Glazed Chicken with Green Beans and Rice
This product only contains 220 calories and has plenty of protein, but not all of the proteins are natural or easy for your system to recognize. It also contains some MSG-like ingredients that can sometimes set off your system if you're sensitive to MSG. Despite these things, we love that it's a great source of Vitamin C, Calcium, and Iron and that it contains ultra-healthy brown rice.
Healthy Choice Mushroom Roasted Beef
The mushroom roasted beef meal from Healthy Choice is an excellent source of Vitamin A, and a good source of protein as well. It has a lot of sodium, which brings it down in terms of health but doesn't have much sugar at all, which we love. This product does contain preservatives that we wish they would leave out and contains high fructose corn syrup that we don't like at all.
Kashi Mayan Harvest Bake
Kashi is non-GMO project verified in all of their products, and this particular product is also vegan. You'll get 10 grams of protein and 11 grams of fiber in each bowl, along with calcium, potassium, and Vitamin C. The best news for this bowl is that you can pronounce every single word on the ingredients list, which is a rarity in the prepared food world.
Kashi Black Bean Mango Bowl
Speaking of our love for Kashi, another one of their vegan bowls made our list! The black bean mango bowl is plant-based, and although it contains wheat, there are no other known allergens present in the bowl. It contains nine grams of protein and 12 of fiber, and it also provides ¾ of a cup of vegetables, so you'll know you're heading toward your daily goals when you indulge.
Amy's Light and Lean Spinach Lasagna
Have we already professed our love for Amy's? We adore their non-GMO, organic products. This particular plate only contains 250 calories and five grams of fat. It is soy and tree nut free, and it's a Kosher meal. You can once again pronounce every word in the ingredients list, which means no preservatives are taking away from the goodness of the meal.
Healthy Choice Golden Roasted Turkey Breast
The sodium in this meal is the real downside, but the flavor and low calories will keep you coming back for more. Although this meal doesn't have quite the nutrient diversity we are used to seeing in some other Healthy Choice meals, it does have quite a bit of potassium and half of your daily necessary Vitamin C intake. It does not meet any lifestyle or allergen requirements.
Caulipower Margherita Pizza
If pizza is what you crave, try Caulipower's Margherita pizza. This meal is naturally gluten-free but doesn't lose out on the flavor by using a cauliflower crust. There is at least one preservative that we don't love, but almost all of the other ingredients are fantastic. Half of a pizza is only 330 calories, and you'll still get 12 grams of protein and a good assortment of vitamins and minerals.
Luvo Great Karma Coconut Curry
If you have an allergy or lifestyle preference that you're trying to adhere to with your microwaveable meals, look no further than Luvo. This particular bowl is gluten, dairy, and GMO-free, as well as Vegan. It contains 10 grams of protein, one full cup of vegetables, and a decent dose of fiber and protein. It's also low in sodium, so it's safe for people with cardiovascular issues.
Buyer's Guide
Now that we've shared our favorite healthy microwave meals, let's take a look at some helpful shopping tips and other things to consider.
Dietary Restrictions and Lifestyle Choices
First and foremost, you'll want to consider your lifestyle. Do you have any dietary restrictions? These can include anything from major health issues like Crohn's Disease and Celiac's to lifestyle choices like veganism and Paleo. If you do fit into one of these categories, it will obviously affect what you will be able to eat and what you will consider healthy.
Luckily, there are plenty of options for almost every lifestyle, but that doesn't mean you will have an easy time finding them at a small local grocer. You'll need to do some recon to check out the frozen food departments at a few stores before you find the best selection for your lifestyle. Sometimes there are even specific stores specializing in your lifestyle to keep in mind.
Nutritional Facts
Once you've decided whether or not a specific dietary restriction will be a problem for you when buying a meal, you'll want to learn to understand the nutritional facts on the back of meal packages in order to get the most nutrition for your money. Generally speaking, lower calories, sugars, and sodium will be important to watch out for on the package.
You'll also want to consider preservatives. Theoretically, the only preservative your meal should need is the freezer, but many meals will contain other preservatives that aren't good for you, or that will lower the nutritional value of your food. Some of the biggest culprits to look out for include butylated hydroxyanisole, sodium nitrate, ammonium sulfate, and MSG.
Finding one of these preservatives in your meal doesn't necessarily have to be a deal breaker, but it should give you reason to double check the nutrition level of your food, especially if the food in question claims to be organic or natural, since most of these will not be present in truly natural and organic food products.
Pro Tip: Make sure you read the portion size on every label. Some companies say that what looks like an individual meal is actually two portions, meaning all of the nutritional facts must be doubled if you're going to consume the whole product. Don't let this trick throw you off of your groove or ruin your diet.
How Many Fruits and Veggies Does it Contain?
​If you really want to get the most out of your meal, you'll need to make sure you're getting a healthy dose of fruits and vegetables. This will again be something you'll find on the nutrition label under ingredients, but meals that tell you exactly how many servings of fruits and veggies they offer compared to the daily recommendation are your best bet.
High amounts of vitamins and minerals, including fiber, will help to indicate how much nutrition the fruits and vegetables in your meal are really offering you. Take your time to find a meal that comes with a large side of veggies or a fruit "dessert" to get the most bang for your buck.
Calories Count
Not every diet requires you to count calories, but as a general rule, you shouldn't consume more than 350-500 per meal if you'd like to maintain or lose weight. Most health conscious brands will put their calorie count right on the front of the box, but if you don't' see it there, you can always find calories on the back with the rest of the nutrition information.
This is another time you will want to pay attention not to fall prey to the dreaded double portions. If your meal claims to contain only 300 calories but has two servings per box, you're getting duped. You'll either have to eat only half of what's offered or opt for a different meal altogether to avoid added calories.
Budget and Food Fandoms
These are pretty obvious, so we decided to combine them into one category. You should always choose meals you know you'll like so you're not wasting your time or money on a meal that could end up mostly in the trash. You'll also need to ensure you stay within your budget. Healthy living is expensive by nature, so understanding what you can and can't afford is crucial.
Keeping these two things in mind doesn't mean you can never try anything new or splurge a little. We just want you to keep in mind that you may want to try one new thing with several favorites as a backup and that splurging shouldn't happen all of the time, that's just called overspending.Pro Tip: Use your local grocer's app, shop around for deals, and use apps like iBotta to help lower grocery bills and get cash back while you get the hang of budgeting for your new, healthy lifestyle.
​Compare, Compare, Compare
Shopping around, not only at different retailers but also for different brands, is a good way to make sure you're getting the best products for the best prices. If one local grocer has a sale on your favorite brand, even if that isn't the most convenient store, it might be worth a look to save a few dollars. The same goes for brands.
A brand name doesn't always mean a better product. Sometimes grocery store chains will come out with their own lines to mimic a successful name brand line they sell, and often it means the same quality for a lower price. Make sure you continue to follow all of the rules above to ensure the two brands are of equal quality, but if they are, go for the store brand.