*This post may contain affiliate links. As an Amazon Associate we earn from qualifying purchases.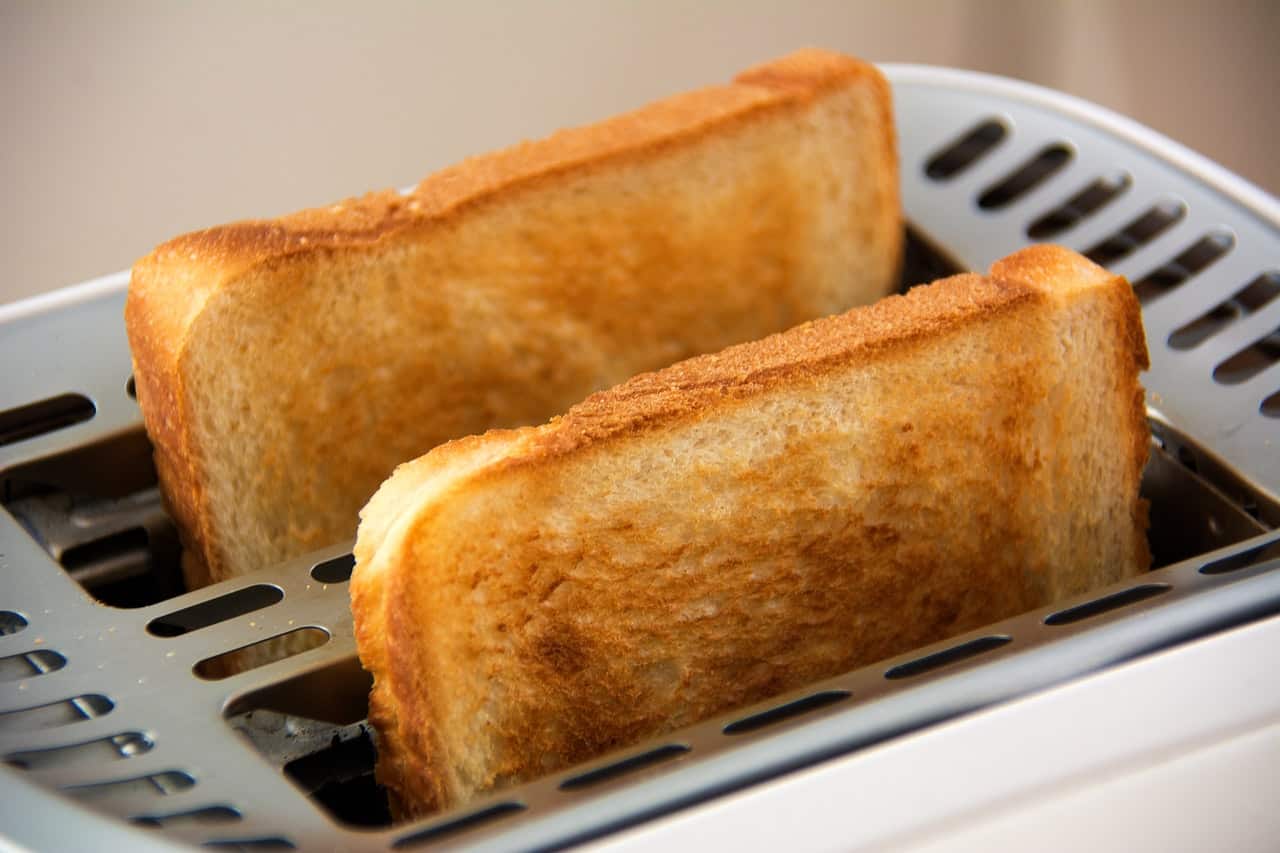 ​Image from Pexels
Meta: Check out our list of the best 2 slice toasters and learn how to pick the best one for your kitchen and toasting needs.
In our search to find the best two slice toasters, we discovered a saturated market filled with hundreds of toasters. We wanted to identify the best toasters available to reduce the time you needed to spend shopping for one. We searched reviews and customer comments all over the web to come up with a list of the best toasters available.
One question we kept running across was; why do I need a toaster if I have an oven? Sure, your oven can handle toasting bread, but it may also burn the bread when you get distracted or toast it unevenly. Ovens are just that, a big box designed to get hot and stay that way. The element in the oven may heat one side faster than the other, but that doesn't matter much if you're baking a chicken.
If you're making toast or preparing frozen waffles, it's not hard to burn them in a conventional oven. A toaster removes all the guesswork because it has a timer that stops the toasting process at the desired darkness. Granted, it may take some trial and error to figure out how to get the toast just right in a new toaster, but once you figure it out, it's easy.
The real benefit to using a slotted toaster is speed. As petty as it may sound, we want our toast now and now in five minutes. Since the space in the toaster is so small, it heats up faster and produces toast in a hurry. The same goes for frozen waffles or bagels. Visit the kitchen in most restaurants, and you'll find a few toasters in there because they need it toasted fast and with minimal supervision.
​Comparison Table
[amazon box="B07MR2K254,B0000A1ZN0,B00CXMO02W,B00451B7RU,B0083VCXQM,B07KR4HN6X,B008YS1ZAO,B0758611PM,B07DPHSL6Y" template="table"]
​How We Chose the 2 Slice Toasters on Our List
Choosing any kitchen appliance is a chore. You have to spend hours researching each brand and looking for customer opinions of their products. Beyond that, you need to spend some time learning what people want in a toaster. We know what skills we like for our toaster to have, but you may have different needs. So, in order of importance, we chose the two slice toasters on this list based on:
​

Owner opinions and reviews: What do other people think about it?
Reliability and durability: Does it cook toast the same way each time and how long will the toaster last?
Features and versatility: Does the toaster have a lot of bonus features and can it accommodate a panini?
Cleaning: Is the toaster easy to clean and does it have crumb trays?
Aesthetics and size: Is it pretty and how much counter space does it need?
Price: Is it priced according to its features or brand name?

​
​The opinions of people that own any type of product end up being one of the most important things to consider before buying it. The internet has turned websites like Amazon into testing labs for every product they sell. It makes it easier to warn others not to purchase something, and it forces companies to make better products or at least provide excellent customer service.Reliability and durability get labeled as important because an appliance like a toaster should brown every piece of toast precisely like the piece before or next to it. A durable product is essential because no one wants to buy an expensive appliance that breaks four months later. So, consistent performance and a long lifespan come in a second place in the decision-making race.Features, versatility, and cleaning make the middle of the list because we may like to make sandwiches in our toaster while you may just need it to brown some bread. Of these three features, cleaning is possibly arguably on the same level because a toaster fills up with crumbs and chunks or things that you need to get out easily.How the toaster looks and the amount of space it takes up are necessary but not critical to the reliability or value of the product. If you designed and decorated your kitchen to look a certain way, how a toaster looks may be more important to you. If not, just get one you like that fits in the space you have available or stores away easily when you're not using it.The cost of the toasters was almost not considered since a high-quality, reliable appliance that gets good reviews is worth spending money on unless you're on a limited budget. We included several toasters that fall into the affordable category and some that are expensive. The mix of toaster prices was more luck than design. However, there's a toaster on the list that fits your needs and budget.
​Best Two Slice Toasters
​This list is unordered meaning that we didn't list the toasters based on what we thought about them. Instead, we compiled a list of the highest rated two slow toasters as we found them then wrote mini-reviews for each one to give you a little more buying insight. Check out the buying guide after the list for more information on which ones we feel meet specific criteria better than the rest.
​Evening 2 Slice Toaster
[amazon box="B07MR2K254″]
​You can order this two-slot toaster on Amazon for $32.88. It's stainless steel and has a somewhat retro look to it. The orange side panels might clash with some kitchens. That said, we found it visually appealing and loaded with features we liked. It's simple to operate, affordable, and includes a crumb tray for easy cleaning.People that own this toaster love it. They say it cleans up easily and they like the retro style. It heats up quickly and produces toast, even dark toast, in record time. Many of the customer comments we found indicated their toaster was a year or two old and still worked perfectly. For the price, this is an excellent toaster if the orange sides fit with your style.
​4.2 out of 5 Stars
Cuisinart CPT-160 Metal Classic 2 Slot Toaster
[amazon box="B0000A1ZN0″]
​You can get this toaster on Amazon for $42.99. It's made from stainless steel and comes in four styles which includes red sides or a satin grey finish. It doesn't have a crumb tray which is a letdown, but its slots are extra-wide to accommodate larger items. However, making paninis or reheating pizza in this toaster might be problematic since it doesn't have a crumb tray to make cleaning easier.Despite missing the crumb tray, people that own this toaster like it. Many claimed they use it daily and have for over a year with no problems to report. We found a few complaints about its lack of any kind of beep or notice that the toast is done. However, a report to let you know your toast is ready seems like a personal preference to us since we're usually staring at the toaster anyway until the toast pops up.
​3.6 out of 5 Stars
​Hamilton Beach Keep Warm 2-Slice Toaster
[amazon box="B00CXMO02W"]
​You can order this toaster on Amazon for $29.99 in three color styles. It offers a semi-unique feature that keeps your toast warm without over toasting it. It has a crumb tray for easy cleaning, and the cord may be hidden under the toaster when it's not in use. The slots aren't wide enough to make sandwiches in it, but you can reheat pizza in this toaster and use the removable crumb tray for easy cleanup.Overall, people that own this toaster love it. However, unlike the previous toaster on the list, owners complain about the beep this toaster makes when your toast gets done. You can't turn the beep off, so it seems like the absence of the beep is terrible and audio you can't silence is a flaw as well. That said, this still falls into the personal preference category.
​3.6 out of 5 Stars
​Oster 2-Slice Toaster
[amazon box="B00451B7RU"]
​You can get this toaster on Amazon for $34.99. It offers seven settings to get your bread toasted perfectly to your liking plus one-touch settings for warming, thawing, and bagels. It has an automatic shutoff feature that turns the heat off if the toaster jams. The slots are extra wide but won't accommodate a sandwich. However, it does come with a dishwasher safe crumb tray.Many of the people that own this toaster claim they're had it for years, and it works great if you keep it clean. Some user report that the darkest setting actually burns the toast and they recommend using a setting one level lower than the ones on the toasting chart included with the instruction manual. However, any new toaster takes a few tries to figure out.
​3.9 out of 5 Stars
​KRUPS 2 Slot Stainless Steel Toaster
[amazon box="B0083VCXQM"]
​You can order this toaster on Amazon for $34.99. It offers several one-touch features including an easy cancel button, defrost, reheat, and a setting for bagels that only toasts one side. The toast pops up but stays a little lower in the toaster until you manually push the handle up to keep it warm. It has six toast settings and a removable crumb tray to make cleanup easier.Owners say it works as advertised and toasts evenly. There's no way to change the pop-up feature, so you always have to manually push the handle up to remove the toast and avoid burning your fingers. You can store the cord in the bottom of the toaster when it's not in use, but most owners agree it's more trouble to store the cable than it is to leave it out.
​3.8 out of 5 Stars
​HOLIFE 2 Slice Toaster
[amazon box="B07KR4HN6X"]
​You can order this toaster on Amazon for $34.99. It has a brushed stainless-steel finish. It has extra-wide slots that may allow you to make a panini or grilled cheese in the toaster if you use thinly sliced bread. Crumbs and other debris can be easily cleaned up using the removable crumb tray which is also dishwasher safe. It has six toasting settings and a digital countdown timer.People that own this toaster like it overall. Owners report that they purchased this toaster because of the extra-large slots and their desire to toast bread of uncommon sizes. Most of the owners claim the toaster works well and they don't have any complaints. Some owners claim the toaster is a little hotter toward the controls end of the slots.
​4.3 out of 5 Stars
​BLACK+DECKER 2-Slice Extra Wide Slot Toaster
[amazon box="B008YS1ZAO"]
​You can order this one on Amazon for $23.61. It comes in black with a brushed, stainless-steel front panel. It's a no-frills toaster that offers seven toasting settings and a drop-down crumb tray for easy cleaning. It has extra-wide slots, so you could make thin sandwiches or reheat thick crust pizza in it with ease. It features an extra-lift handle so you can pop the toast up higher to avoid burning your fingers.Overall, owners love this budget-friendly toaster and its simple features. However, the drop-down crumb tray is not ideal compared to a removable tray. Many owners compared it favorably to more expensive toasters they owned in the past. The extra-long, extra-wide slots accommodate a wide array of bread sizes, but some types of bread don't fit all the way in, and the top portion goes untoasted.
​3.6 out of 5 Stars
​Kenmore 2-Slice Toaster
[amazon box="B0758611PM"]
​You can order this toaster on Amazon for $43.99. It comes in black, red, and stainless-steel finishes. It offers nine toasting settings, so you can get your toast exactly the way you want it. It's another no-frills toaster with a simple design, and it's easy to use. The crumb tray is removable for easy cleanup, and the slots are wider than usual.Owners love this simple toaster, and they claim it toasts bread exactly like the online chart shows. The crumb tray is a little tricky to remove until you get the hang out it, but that's not a deal breaker in our opinion. Some owners complained that over time the toaster began toasting slightly unevenly at the top of the bread. However, this problem may be caused by placing the toaster under a vent or fan as well.
​3.9 out of 5 Stars
​BREVO 2 Slice Toaster
[amazon box="B07DPHSL6Y"]
​You can order this toaster on Amazon for $29.99. It's easy to use and comes with seven toasting settings in a stainless-steel frame. It doesn't offer any frills, but it has a removable crumb tray to help you keep it clean without flipping it over and shaking the crumbs out. It also features one-touch reheat and defrost buttons along with a cancel button.People that own this toaster claim it works well, and it's durable. However, they also say to expect your toast to be toasted a little unevenly but not enough to matter. Over time it tends to make the toast darker on one end. It's inexpensive and small enough to fit almost anywhere.
​4.1 out of 5 Stars
​Your Toaster Buying Guide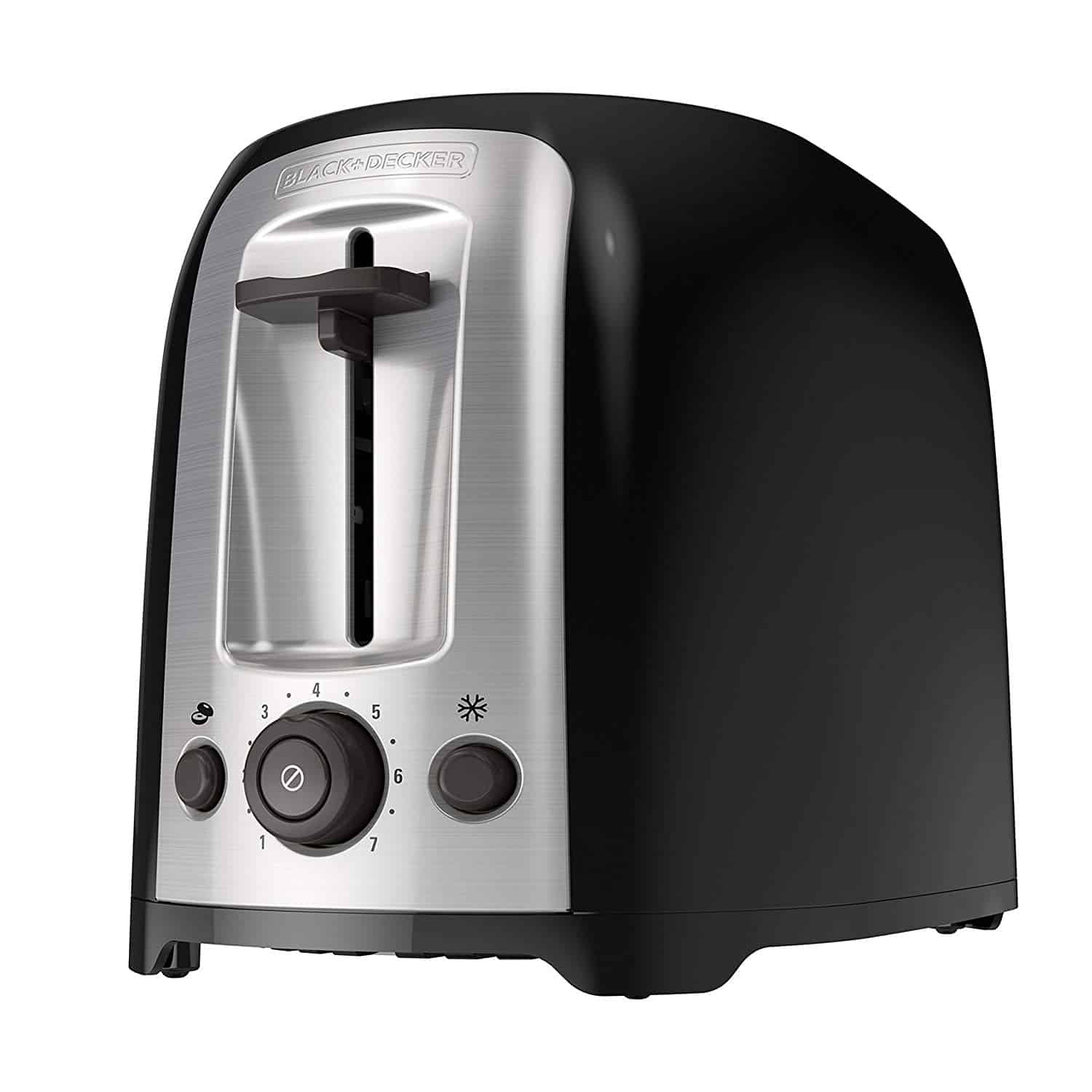 ​Before choosing a toaster, consider your budget and where you plan to store the toaster. Most toasters are small and don't take up much room whether you're storing it in a cabinet or leaving it out on the counter. Your budget is important, but most of the toasters on this list are affordable. If you want an inexpensive, no-frills toaster, we suggest buying the BLACK+DECKER 2-Slice Extra Wide Slot Toaster.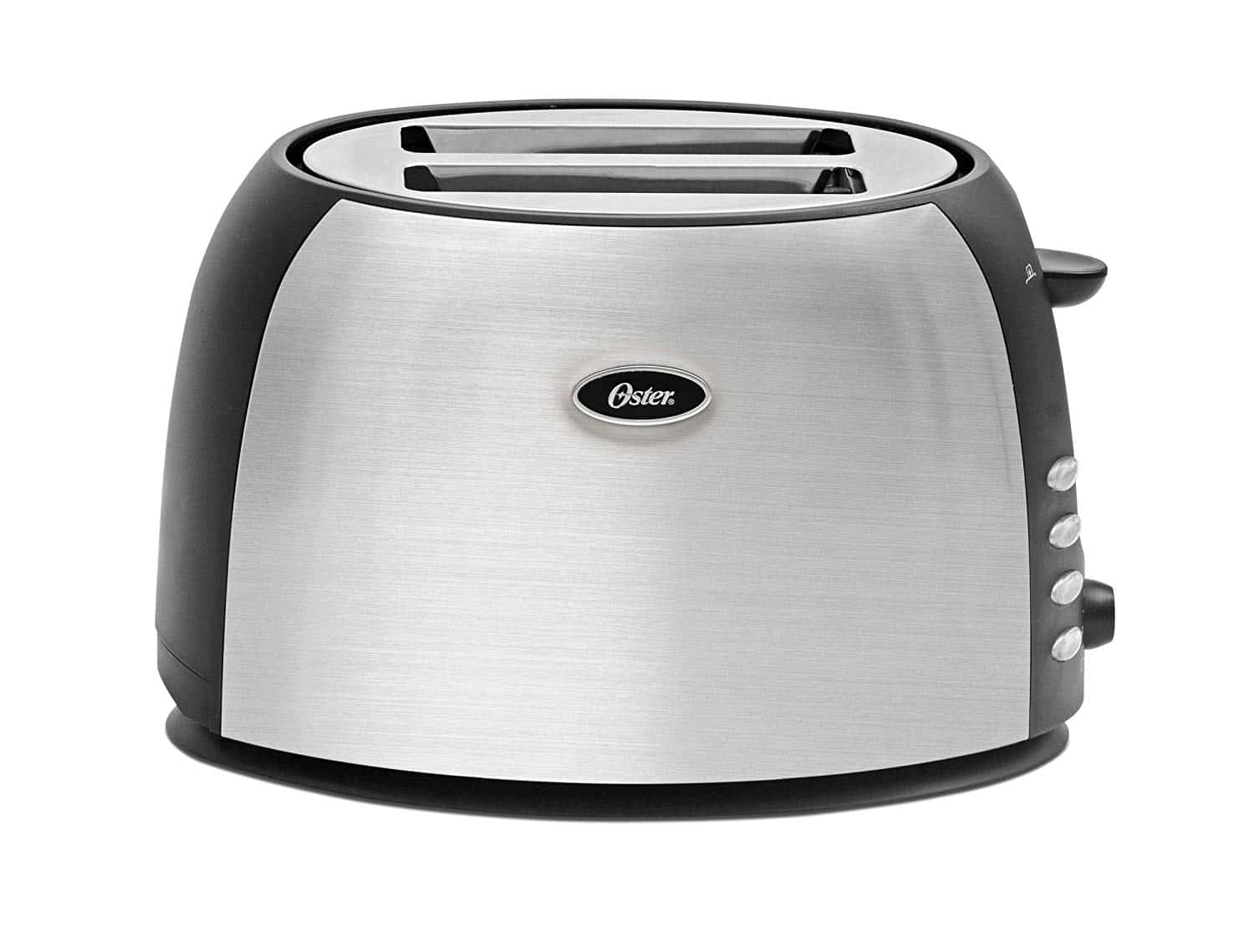 If you need to conserve space, the Oster 2-Slice Toaster is the smallest two slot toaster on the list, and it's affordable as well. The Evening 2 Slice Toaster is next in line for the small toaster award. However, keep in mind that both of these toasters accept a limited number of bread types and sizes. They typically get designed for making simple toast or heating up frozen waffles.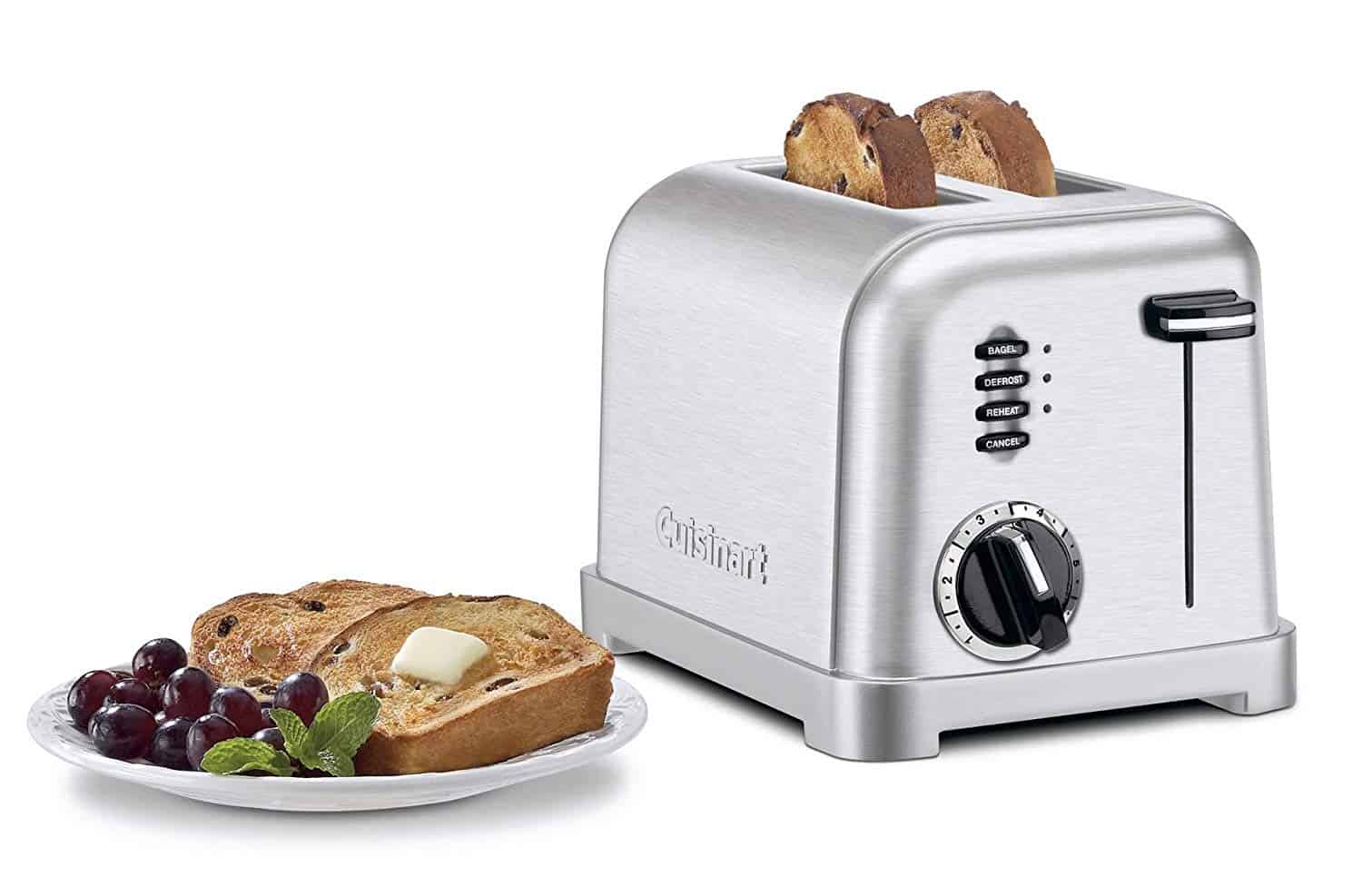 All that said, unless you need a small toaster or a toaster with extra-wide slots, any toaster on the list will perform well and last a long time. Luckily, they're all affordable as well. All of them except the Cuisinart CPT-160 Metal Classic 2 Slot Toaster comes with crumb trays too. The final decision is in your hands since you know your kitchen and toasting needs better than we do.
​Looking Past the Toast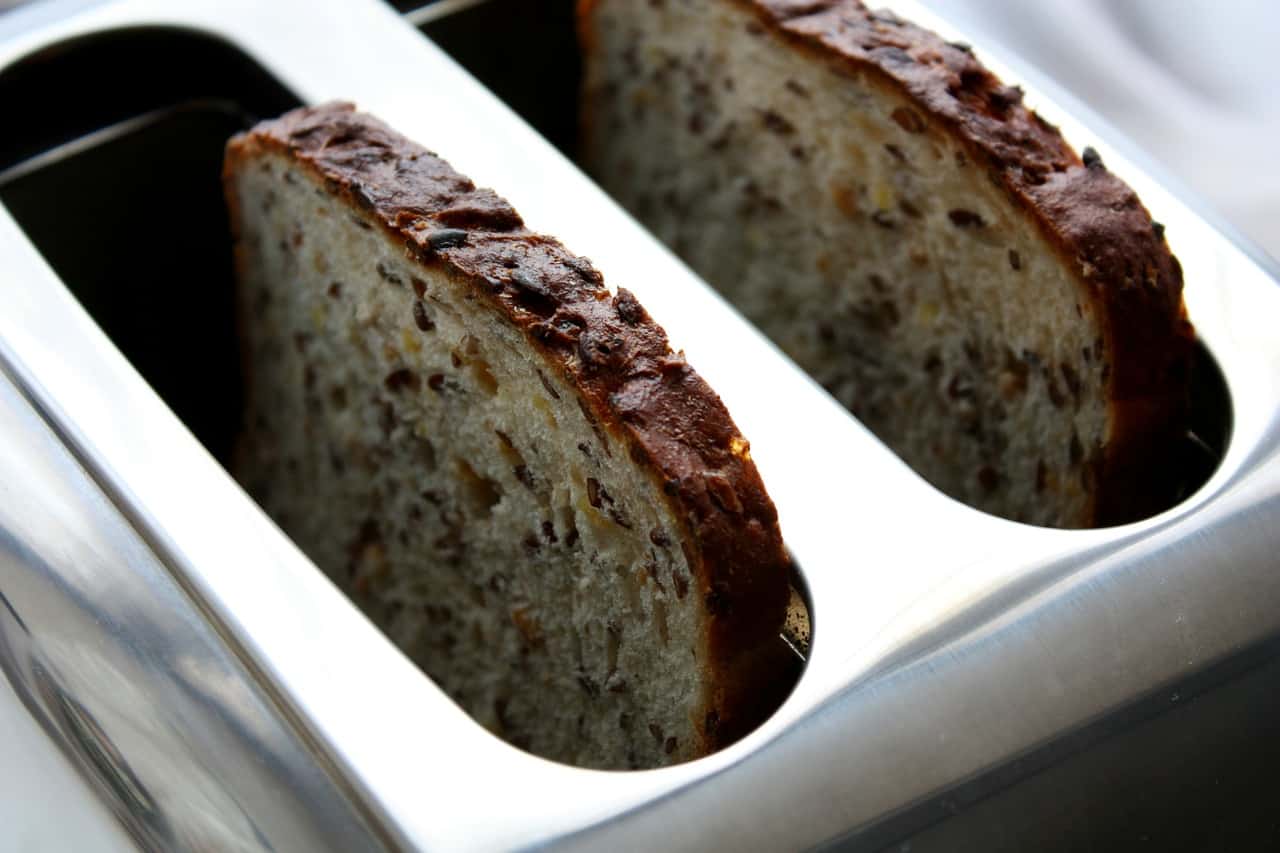 ​Image by PublicDomainPictures from Pixabay
​Toasters are perfect for toast, bagels, and frozen waffles. You already knew that, but did you know you can prepare lunch is some toasters. Consult the manufacturer's guide or some online videos before you attempt anything fancy. That said, you can make many things in a toaster including a grilled cheese sandwich and paninis.If you get a little creative, you might find a lot of toaster recipes online to help you make the most of your toaster for a speedy lunch or any other meal for that matter. Don't stop there, reheat pizza or breadsticks in your toaster. Trust us; a toaster can do a lot more beyond simply browning a piece of bread or thawing out your breakfast waffle.
​Some Final Notes
​With so many toasters out there, deciding which one to buy is a challenge. However, if you follow our guide and pick the toaster that fits in your kitchen, you'll get the right one. There's a toaster on our list for most kitchens and every budget. That said, we urge you to look past the price and get a toaster that you know will last a long time.