*This post may contain affiliate links. As an Amazon Associate we earn from qualifying purchases.
The air fryer has completely revolutionized the way that we cook at home, as well as what we put into our bodies. With health becoming a greater concern across the Western world, here are some best air fryer recipes to improve your diets. One step is to reduce the amount of oil that we used when cooking our foods.
While there is research to suggest that oil isn't bad for us, excessive amounts can mean hidden calories. As with nearly everything, an excess is dangerous. Therefore, limiting your unknown consumption of oil can help you to stay healthy without needing to sacrifice the delicious foods that you love!
An air fryer can magnify the effect of the oil that you use. Even a tablespoon can do the same job as multiple cups of oil would have in a cast iron pan. This efficiency can also help to save you money, after all, oil isn't cheap. Plus, you won't have to deal with cups of dirty oil which can't be easily disposed of when you're finished cooking.
Without a doubt, the air fryer is revolutionary. But how should you use it and what recipes are the best? Some foods still taste better cooked the traditional way, but these ten are the best air fryer recipes that we know of. Even with a fraction of the oil, you would typically need, these meals and snacks will be a fan favorite, we guarantee it!
How We Ranked These Delicious Recipes!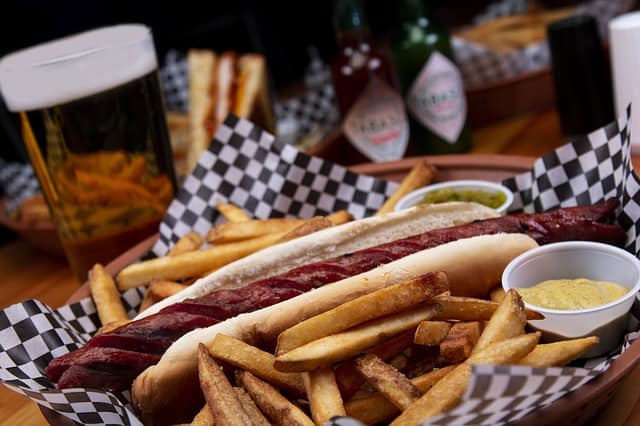 How on Earth can you rank foods? Well, it's probably not as complicated as you might imagine. We took three factors:
​How the air fryer recipe compares to the traditional version
​How great it tastes
​How 'likeable' it is for the average person
Fried halloumi, for example, is delicious, to us, but it's unlikely to beat out hot dogs, donuts and lava cake for the average person!
With these factors in mind, we scoured the internet looking for the most popular resources. These recipes are from a wide variety of sources, to give you more choice. All of these meals and snacks are certified delicious, we promise. Plus, with less oil, they are lower in calories and won't leave you feeling greasy and sluggish later!
The Top 10 Best Air Fryer Recipes in the World
These are without a doubt, the best air fryer recipes that we've ever seen. Whether you're a vegetarian, meat eater, hot dog connoisseur or a donut fanatic, there's something for everybody. Give in to your cravings, try one of these recipes today. With less oil than ever before, you'll be surprised at how great they taste, without the extra calories.
Molten Lava Cake
This recipe produces four lava cakes. If you want less, divide the ingredients respectively and keep the cooking time the same.
Preheat your air fr​​​​yer to 375F.

Grease and flour oven-safe ramekins, as many as your quantity allow for. For this recipe, four will be ideal.

Whisk two eggs and three and a half tablespoons of baker's sugar until it's pale and frothy.

Melt three and a half o​​​​unces of dark chocolate in the microwave. Combine with three and a half ounces of melted unsalted butter.

Combine the chocolate mixture with the egg mixture and mix until even.

Stir in one and a half tablespoons of self-raising flour into the mixture until smooth and even.

Fill the ramekins ¾ of the way to the top and bake in the air fryer for ten minutes.

When baked, remove them from the fryer and cool for a couple of minutes before releasing them onto a plate and serving with whipped cream.
This delicious recipe won't take more than 15-minutes to make if you're an experienced baker. For a tasty snack or dessert at the end of a meal, it's perfect. We love this as an idea for a dinner party because of how simplistic it is and how quickly you can produce more of these sweet treats on the go.
Chunky Avocado Fries
Potato fries are a little dull, aren't they? With avocado still being all the rage, it's time to make the perfect chunky avocado fries at home, using your air fryer. With less oil than you would typically use to make fries, this healthy potato alternative is ideal for dinner parties or a lunchtime snack alongside meat or tofu burgers.
In a small bowl, whisk together one cup of breadcrumbs, a teaspoon of garlic powder and a teaspoon of paprika. In a different bowl, place a cup of flour. In yet another bowl, beat two large eggs until even.

Dip avocado slices into the flour, then the egg and then into the breadcrumb mixture until they have a thin coating. Leave all slices for a few minutes to let the mixture set.

Place into the air fryer and fry them for ten minutes at 400F or until the breading becomes a dark golden brown.

Let the slices cool for 30-seconds and then serve with a dip of your choosing. Ranch dressing or blue cheese are perfect dips.
Simple, right? We estimate that even for a novice chef, this recipe shouldn't take more than twenty minutes to produce. While not a full meal, you could easily serve these as an appetizer or even a snack at a dinner party. With a paprika breading you get a dark and colorful exterior that looks fancier than you would imagine from such a simple recipe.
Cinnamon Sugar Ring Donuts
Making ring donuts is incredibly simple, and with this recipe, you'll be able to make eight tasty donuts in far less time than you would imagine. Making these donuts should take less than fifteen minutes and can serve up to eight people. These donuts are a great snack for a busy evening or a lazy weekend.
To begin, combine a third of a cup of granulated sugar with a teaspoon of cinnamon, four tablespoons of brown sugar and a pinch of allspice.

Take eight Pillsbury Grands Flaky Layers biscuits and cut a hole out of the middle. You can do this using a biscuit cutter. Don't flatten them at all.

Fry four at a time at 350F for five minutes. Repeat until finished.

As they are cooking, you can melt a few tablespoons of salted butter. As you pull them out of the fryer, use a brush to paint the butter onto the donuts and then drop them into the sugar mixture to coat.

Shake off excess and serve while they are still warm.
Air Fried Hot Dogs
Air frying hot dogs is great for one simple reason; it's easy. Grilling them is our preferred method, but it needs attention to ensure that they are at an even temperature. With an air fryer, they'll be perfect without any effort, which is why we love hot dogs, because they are easy and delicious.
Preheat your air fryer to 390F. It will take about 5-minutes to come up to temperature and maintain it evenly across the machine.

Place two dogs into the fryer at a time to ensure that they become evenly cooked. If your device is large, you might be able to fit more without sacrificing even heating.

Cook the dogs for 5-minutes and remove. Let them sit for 30-seconds before you put them onto the bun to prevent it from warming or becoming damp.

Dress your bread with ketchup and mustard, onions and grated cheese if you like.

Place the bun and dog back into the fryer for another two minutes. This time will melt the cheese and ensure that the dog tastes like you're accustomed to at the stadium!

Pull out and serve while still warm.
Nashville Hot Chicken Drumsticks
Beat two eggs and a cup of buttermilk in a bowl. In a different bowl, combine two cups of flour, two tablespoons of paprika, a teaspoon of garlic and onion powder, a couple of teaspoons of salt and one of black pepper.

Dip four pounds of chicken into the egg mixture and toss them in the seasoning until all have a coating. Spray each piece with vegetable oil and then leave to rest.

Preheat the fryer to 370F and brush the bottom of the basket with a little vegetable oil to ensure that the chicken doesn't stick.

Fry the chicken in batches for twenty minutes per batch, flipping them halfway through the time.

Lower the temperature to 340F and pour all of the chicken back into the basket if possible to fry for another seven minutes.

Heat a quarter cup of vegetable oil in a pan. Add a tablespoon of cayenne pepper and a pinch of salt. Sizzle the spices briefly and then brush the resulting sauce of the check before serving warm.
Parmesan Tortellini
Boil a large pot of salted water and cook a package of tortellini until al dente. Around 9oz of cheese tortellini will be ideal.

In a bowl, mix a cup of breadcrumbs, third of a cup of parmesan, a teaspoon of oregano, half a teaspoon of garlic powder and one cup of red pepper flakes, as well as salt and pepper to taste.

In a different bowl beat two eggs and in a separate container, pour a cup of flour.

Coat the drained tortellini in flour, dredge in eggs and then in the breadcrumbs mixture.

Cook them in the air fryer at 370F for around ten minutes or until crispy.
Homestyle Fish and Chips
In a bowl, combine a third of a cup of flour and pepper to taste.

Beat an egg with a little water. In a separate bowl, toss a tablespoon of grated parmesan with cayenne pepper to taste and two-thirds of a cup of crushed cornflakes.

Sprinkle salt onto a pound of haddock or cod. Dip the fish in the flour mixture and then in the egg and then in the cornflake mixture. Leave to set for a few minutes.

At 400F, cook the fish for 8-10 minutes or until flakes with a fork. Turn halfway through cooking to ensure an even temperature.
If you'd like to cook fries, you could also do this in an air fryer. But why not try the chunk avocado fry recipe that we listed above? With a fresh piece of haddock, it would go perfectly. We would recommend serving with tartar sauce, or ranch dressing if you prefer for dipping both the avocado fries and the flaky and tender fish.
Raspberry Balsamic Smoked Pork Chop
Preheat the air fryer to 400F and leave to heat for a few minutes to ensure an even temperature distribution.

Lightly coat the air fryer basket with some oil to prevent sticking.

In a bowl, beat together with a couple of eggs and a quarter cup of 2% milk.

Toss a cup of finely diced pecans with a cup of breadcrumbs.

Take four pork chops, ideally with the bone still intact and dip them in the egg mixture and coat in the crumbs. Leave to set for a few minutes.

Lightly spray the pork with cooking oil and then place in the fryer to cook for 12-15 minutes or until golden brown. Halfway through cooking, turn them to ensure an even temperature through the meat.

Remove the meat and keep warm. Meanwhile, you should combine a quarter cup of flour, a third cup of balsamic vinegar, two tablespoons of brown sugar and raspberry jam and a tablespoon of orange juice concentrate. Bring this mixture to a boil in a pan and cook for 6-8 minutes or until a slightly thick sauce is formed. Serve with the pork chops.
Crispy Coconut Shrimp
To start, preheat your fryer to 375F. Peel and remove the veins from the shrimp but leave the tails on for extra meat and flavor.

Toss a quarter cup of breadcrumbs with a cup and a half of shredded coconut. In a different bowl, combine the whites from four eggs, salt, and pepper to taste and a few dashes of hot sauce. Place a couple of cups of flour in another bowl.

Dip the shrimp in the flour, then in the egg and finally in the coconut mixture. Lay them carefully in the air fryer basket after spraying it with oil to prevent sticking.

Cook the shrimp for four minutes on each side or until the coconut mixture starts to turn light brown and the shrimp have turned to a pink color.

While the shrimp are cooking, you should prepare the sauce. Take a cup of apricot preserves, a teaspoon of apple cider vinegar and a pinch of red pepper flakes. Combine in a pot or saucepan and cook over medium heat until the preserves have melted and the sauce forms. Taste and add salt and more red pepper or hot sauce if needed.
Oatmeal Chocolate Chip Cookies
Preheat the fryer to 350F and leave for as long as possible to heat evenly. Line the fryer basket with foil.

In a large mixing bowl, you should mix a cup of warm butter, three quarters of a cup of sugar and the same of brown sugar.

Beat in a couple of large eggs and a teaspoon of vanilla into the mixture.

In another bowl, combine three cups of quick-cooking oats, one and a half cups of flour, 3.4 ounces of instant vanilla pudding mix, a teaspoon of baking soda and a teaspoon of salt.

Pour this mixture in the egg and sugar mixture slowly, stirring as you go. Mix well until smooth and then stir in a couple of cups of chocolate chips and a cup of chopped nuts of your choosing.

Combine the mixture into balls of dough using your hands and flatten them slightly to create discs. Place the dough a couple of inches apart in the foil-lined basket. Cook them for 8-10 minutes or until the sides of the cookie start to turn a light brown.

Remove the cookies and allow them to cool on wire racks to ensure no sticking and an even texture.
Feeling Hungry but Can't Decide?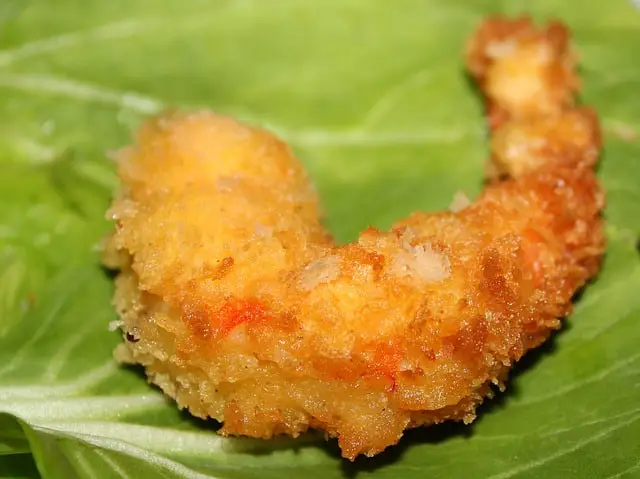 We understand your pain. With so many delicious recipes to choose from, it's not an easy decision! Let's start here, are you in the mood for a full meal or a tasty snack? If it's the meal, fish eaters will love the crunchy bite of the Coconut Shrimp, with a creamy sauce you'll be in food heaven for at least a few seconds… until you won't be able to resist another!
If you don't like fish, hot dogs are always a fan favorite. You can also swap the dog out for a higher quality sausage, and as long as you're careful about reaching a safe internal temperature, you can upgrade to different meat if you'd like. When compared with the Avocado Fries, it's a perfect meal for watching the game or a lazy Wednesday evening.
For those of you looking for a tasty snack, we'd recommend the Molten Lava Cake. You'll never believe that something so luxurious would need so little oil. Almost nobody doesn't like chocolate. But if that's somehow you, the Cinnamon Ring Donuts are a close second. Why not both? Donuts dipped in molten chocolate sounds like a treat to us!